Yes, I know it's not quite Thanksgiving yet, and some purists may believe that it's too early to be thinking about Santa and stockings, but I disagree. Once the leaves fall, Christmas is fair game. And that includes the daunting, but rewarding, task of finding the perfect gifts for the people around you.
Shopping has never really been my thing, and that's why I usually try to check off as many people as possible from my Christmas list at any one store I visit. In my experience, bookstores can be a great place to knock out multiple gifts, just from their sheer volume of inventory. Cooking, history, music, drama, whatever…there are books about it.
On a smaller scale, the Hoard's Dairyman bookstore offers a variety of titles to make your agricultural family and friends laugh, think, and learn. Here are a few top picks for this year:
Swamper Tales (SOLD OUT) features engaging characters and fascinating stories to tell the tale of Roger Peach's time on the county fair dairy show circuit in his youth of the 1960s and 1970s. Showmen young and old can relate to the ups and downs of being a swamper — defined by Peach as someone who "assists a skilled, experienced cattle herdsman or owner." While the snow (or at least the cold) blows outside, your family and friends will reminisce on the warmer days of summer shows.
Christmas in Dairyland collects some of Dr. David Dickson's most famous holiday dairy poems and brings them to life with illustrations by Matti Powers. From "Christmas in Mooville" to "A Dairyman's Letter to Santa," you'll find humor and camaraderie in each spunky poem with a dairy theme. This little book is the perfect way to find a fresh holiday favorite or even start a new tradition. (As a plus, it's the ideal size to fit in a stocking).
Preserving Old Barns by John C. Porter is sure to be a hit even if the recipient isn't a huge reader — it features over 200 incredible photographs of restored barns, along with snapshot summaries of each one's history. Owners of old barns will discover insights into the past as they read about the development of and features designed into these structures. Porter's guides for safely and effectively revitalizing barns in disrepair could even help a piece of the past come back to life. (Now, this one is probably too big to fit in a stocking, but that just gives you more gift-wrapping practice).
Finally, our Judging Guide can be the necessary motivation for youth (or adults) that want to learn or improve their dairy judging and evaluation skills. The booklet provides strategies for analyzing the parts of both cows and heifers, terminology tips, and 19 practice classes with official placings and reasons. You'll also find outlines for taking notes and delivering stellar oral reasons. Next summer's judging season prep can start right now!
You can check out these titles and so many more at the Hoard's Dairyman bookstore. Happy shopping!
---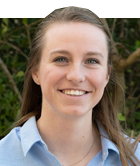 Katelyn Allen joined the
Hoard's Dairyman
team as the Publications Editor in August 2019. She manages the development, editing, and marketing of the variety of resources offered through the Hoard's Dairyman Bookstore. Katelyn is a 2019 graduate of Virginia Tech, where she majored in dairy science and minored in communication. Katelyn grew up on her family's registered Holstein dairy, Glen-Toctin Farm, in Jefferson, Md.