You know those inspirational posters that hang in classrooms and doctors' offices? They are there to instill a sense of purpose in those who read them. They aim to calm you and ease your worries, to put you in a different state of mind.
I find they usually have the opposite effect. I think of them as something I look at but don't really see. How many times has the "hang in there" cat poster been used? Recently, I found myself reclined in the chair at my dentist's office, staring up at a poster plastered to the ceiling. Perhaps, you are like me and don't love those visits, but on this one, I actually stopped, read, and pondered the words on that poster.
"Show me someone who has done something worthwhile, and I'll show you someone who has overcome adversity" — Lou Holtz
That quote, which I'm sure we have all heard at some point, was accompanied by a serene forest scene. I thought how much more at home it would feel to me if it had a backdrop of the American farm. No one truly knows more about overcoming adversity than farmers.
As we near the holidays and the end of the year, it always feels like a time for reflection on all that has passed in the last 12 months. Adversity seems to be a word that stands out to me to describe 2019. The dictionary defines adversity as, "a state or instance of serious or continued difficulty."
In spite of all the adversity that this past year has brought, I think we would all say as dairy farmers we truly are doing something worthwhile. It can be easy to lose sight of that in the daily and yearly grind. Especially in hard years. I hope as we finish this year and look to a new decade, you can keep in your heart and mind all of the blessings that make this industry more than worthwhile.
---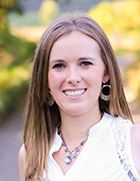 The author is a third-generation dairy farmer from Oregon where she farms in partnership with her husband and parents. As a mother of three young boys who round out the family-run operation as micro managers, Darleen blogs about the three generations of her family working together at Guernsey Dairy Mama. Abi-qua Acres Mann's Guernsey Dairy is currently home to 90 registered Guernseys and transitioned to a robotic milking system in 2017.