The world's top milk production cow, Selz-Pralle Aftershock 3918, is just one of the 450 registered Holsteins at her central Wisconsin dairy. She quietly made an impressive 79,170 pounds of milk, 3,094 pounds of fat, and 2,393 pounds of protein while living with herdmates like a "regular" cow. In fact, late in lactation when her owners realized her production record was going to be "something special," Scott Pralle decided to put her in a pen with half as many cows, but her production dropped. It appears she likes competition! So, she went back to her pen with 90 other cows and to her favorite freestall.
While the Pralles are proud of 3918's record, she is just one of many hard-working cows on their operation. Selz-Pralle Dairy's goal is to create a stress-free environment for all their cows so their genetics can excel. Dairy producers Scott Pralle and Pam Selz-Pralle spoke about their management in the March Hoard's Dairyman webinar, "The world record milk cow: she's just one of the herd." They shared some of their management objectives and benchmarks, addressing the herd health, milk quality, and nutrition that helps them maintain a 30,000-pound herd average. The webinar was sponsored by Trioliet.
They pay attention to cow comfort and added amenities when determined to be profitable. Cows are housed in sand-bedded freestalls and 32 additional fans were added a few years back to improve air movement. Feed is pushed to the cows every two hours for optimal feed intake. The ration details are listed in the presentation.
There are very few transition cow issues in the herd. The Pralles credit some of this to feeding baleage in the transition period. Pam feels this gets a solid rumen mat formed for optimal rumen health and transition to high milk production. Scott added that their herd as a whole peaks later in lactation than typical herds. They also stated that the production curve in their herd is less of a peak, and more of a flat curve. This might be another reason for the minimal cases of transition cow diseases – the high demand for milk production is postponed a few months, making it less abrupt.
The ideal goal is to prevent illness rather than treat it. They believe their success is due to attention to detail and listening to their cows. They have activity collars on all cows and they are firm believers in the technology. The Pralle team is able to detect a health issue several days before physical signs appear due to the rumination patterns. They also don't take short cuts and have surrounded themselves with a team of employees who believes in the same philosophy of cow comfort . . . every day.
As far as genetics, cows are bred to handle the facilities. To compete for feed at the bunk cows need strong front ends and sound feet and legs. Udder depth is a criteria because udders are to be carried above the hock and away from manure. They focus on using proven bulls from established cow families and are not focused on genomics.
Their first-lactation cows are milking 95 to 100 pounds, second-lactation cows are at 125 pounds, and mature cows are averaging 135 pounds per day. Pam expects production to increase a few more pounds as the heifers that are being raised in their new calf barn (with improved ventilation) will enter the milking string with ability to reach their full potential. She talks about their new hybrid calf barn and answers questions about calf rearing at the end of the presentation.
Join us next month
University of Illinois' Mike Hutjens will present "An update on feed additives with a B vitamin focus" on Monday, April 13, at noon (Central time).
The discussion will include economic considerations, evaluation strategies, and transition cow benefits. Additionally, biotin, rumen-protected choline, rumen-protected niacin, and blended rumen-protected commercial blends will be covered. Register here.
---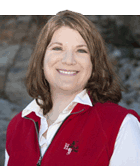 The author is the online media manager and is responsible for the website, webinars, and social media. A graduate of Modesto Junior College and Fresno State, she was raised on a California dairy and frequently blogs on youth programs and consumer issues.