For farmers, working with family can be an awesome blessing or one of life's greatest challenges. This pertains to not only the daily tasks but also the transfer of a business from one generation to the next.
In both my personal and professional life, I have seen situations that have run the full spectrum, from almost fairytale-like to discouraging. While succession planning can be a challenging conversation to initiate, it is vital for a farm's sustainability long-term.
On Purdue University's Commercial AgCast, Maria Marshall, a professor and director of Purdue's Institute for Family Business, talked about succession planning. Early on in the podcast, she explained that her goal for working with farms involves three C's: Helping people keep control of their farms through greater competence and family cohesion.
Family partnerships are abundant in agriculture; Marshall shared that 98% of all farms are family businesses. She said that a transition plan for a farm contains two aspects- the transfer of management and the transfer of ownership.
Many farms, she explained, focus more on the transfer of management, and then much later, a transfer of ownership. A lot of people concentrate on the management aspect, but a transition plan must include both. "If you don't start thinking about the ownership portion, it will have a detrimental effect on the management portion," she said.
This plan will not come together overnight. "Research shows it usually takes between six and 10 years to have a complete succession process happen," she added.
She said the number one issue in succession planning is typically a family relations issue. "Legal structure is not the barrier to the transition," she explained. "It's usually that the goals are not aligned, people have different visions of how they are going to enter and exit, and everything in between."
In a survey of farmers, Marshall said they found some cases in which the farm owner had a plan in place, but they had not talked it through with the successor. "That is not a succession plan," she said.
"You shouldn't be waiting until your children are adults before you start thinking of these things. If it's truly a family business . . . you should be talking about transition and the process way before then," she said. "You have to cultivate the way you make decisions. It's hard to have the first difficult conversation of your family to be that [succession planning]."
On the flip side, she reminded the incoming generation that parents don't "owe" their children the business, and that "fair is not always equitable."
Once a family has goals aligned and a roadmap in place, it is time to involve a lawyer or accountant to assess the financial situation and determine the best legal structure for the dairy. Again, the process of transition may take many years, but Marshall said the path can be much smoother if milestones are clearly laid out for both the incumbent and the successor.
We can all probably think of an aging, successful farmer who would like nothing more than to pass the farm along but has no heirs apparent; or a young farmer who would love to farm for their whole career but either has no family business to join or is in a situation where the farm is not moving into the future. If you are lucky enough to be in a position where you have two (or more) generations working well together, start planning now to make the transfer of management and ownership as seamless as it can be.
---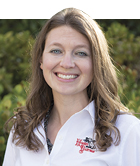 Abby Bauer
The author is an associate editor and covers animal health, dairy housing and equipment, and nutrient management. She grew up on a dairy farm near Plymouth, Wis., and previously served as a University of Wisconsin agricultural extension agent. She received a master's degree from North Carolina State University and a bachelor's from University of Wisconsin-Madison.