No one knows the exact extent that this pandemic will affect how we go about daily life in the future, but just as with historical events in the past, it's clear that some things will remain changed. One of those shifts may likely involve our relationship with food.
Consumers have interacted with their food recently in ways that many never had or expected to before the lockdowns. Grocery shopping got more attention than it had in a long time: people stocked up on food and even equipment to cook at home, which led to shortages of some products. This was while grocery stores were one of the few places that we could still go and interact with other people. Nothing felt normal.
All of this uncertainty creates what researcher Kevin Ryan calls a re-evaluation event. "You take a step back and say, whoa, there's a whole new way to do things," he explained in a panel put on by the Center for Food Integrity.
In the grocery world, that new way to do things became online grocery shopping. Many people didn't feel comfortable visiting a store to get their food or couldn't get out to one — forcing an explosion in the online grocery world that had been gaining moderate steam before the pandemic. This includes both online order programs for delivery and "click-and-collect" systems that require pickup at the store.
In fact, according to market analyst Susan Schwallie, the pandemic elevated e-commerce as a whole "in a way we thought would take the next five years." The trend has maintained momentum, too, with online orders remaining high through the end of June even as brick-and-mortar store sales have also climbed back near pre-pandemic levels.
What this means for food producers and processors is opportunity, particularly in consumer packaging and marketing, Ryan projected. "Digital is not bound by traditional categories," he said.
Online, it is easier to mix and match products, categories, and even stores; there is no separation of aisles or buildings. Ryan pointed to examples of Netflix and Spotify. Both programs start by offering typical categories, but after a user enters some form of data, the groups shift and merge to create new combinations based on the customer's preferences. Amazon uses a similar system to make suggested purchases in the broader world of e-commerce.
How can dairy meet people where they are buying food in these new programs? If it continues to stick around, online grocery shopping could really change the way we see and even develop food. The power will be in the hands of the consumers.
---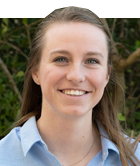 Katelyn Allen joined the Hoard's Dairyman team as the Publications Editor in August 2019. She manages the development, editing, and marketing of the variety of resources offered through the Hoard's Dairyman Bookstore. Katelyn is a 2019 graduate of Virginia Tech, where she majored in dairy science and minored in communication. Katelyn grew up on her family's regis-tered Holstein dairy, Glen-Toctin Farm, in Jefferson, Md.