Milk on cereal, cream cheese on a bagel, butter on toast, and yogurt with its mix-ins and toppings all give breakfast the potential to be a very dairy-friendly occasion. We've heard for generations that it's the most important meal of the day, and what would be a better way to meet that need than fueling up on protein, calcium, vitamins, and minerals?
But we also know that in the time-strapped pre-pandemic world, fewer people were making time for breakfast. Some just doubted its necessity. In 2019, a study of 2,000 Americans found that most people were eating breakfast just three times each week.
With more time at home, though, breakfast is seeing a real comeback. In the initial rush of the pandemic buying this spring, cereal sales alone shot up 78%. Afterward, they continued to maintain year-over-year levels. Of course, this has been exciting news for dairy — fluid milk is the stalwart companion product to cereal.
A new survey of Americans this summer showed that almost three-quarters of families with school-aged children have been able to spend more time together before starting work and school. Before the pandemic, the biggest challenge in the morning for these families was sitting down to breakfast. Now that's changed, and most of those families are aiming to keep those new routines if and when morning activities begin to pick back up.
Not only does this time lead to social and emotional benefits when a meal is consumed together, but a nutritious breakfast has been shown to be part of a healthy diet as well. Although eating breakfast increases the daily caloric intake as opposed to skipping the meal entirely, people who regularly eat in the morning are often more active and snack less. A study from 2017 found that eating breakfast may even help with metabolic health and preventing certain diseases such as Type 2 diabetes, according to Time magazine.
What that meal consists of, though, is just as important, and that's where dairy comes in. Yogurt, milk, and cottage cheese are full of protein and attract other beneficial foods, such as fruit and granola. Taking the time to start the day with a nutritious meal can be a great choice for people and great news for dairy.
---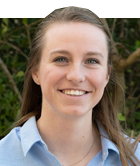 Katelyn Allen joined the Hoard's Dairyman team as the Publications Editor in August 2019. She manages the development, editing, and marketing of the variety of resources offered through the Hoard's Dairyman Bookstore. Katelyn is a 2019 graduate of Virginia Tech, where she majored in dairy science and minored in communication. Katelyn grew up on her family's registered Holstein dairy, Glen-Toctin Farm, in Jefferson, Md.