Some students have known since kindergarten what they want to be when they grow up. Others are still unsure of their future career path as they take classes and explore opportunities on their college campus . . . and that's perfectly fine!
Students who fall into either one of those categories or somewhere in between can benefit tremendously from internship experiences. As an intern, you get a chance to test the waters of a certain profession before accepting a full-time position. You can try a job on for size to see if it is the right fit for you and your skillset. This knowledge about yourself will help in your future job search.
As my college graduation neared, I wasn't exactly sure what career I wanted to pursue, but I knew I enjoyed cows and writing. Now I am thankful to combine those two interests every day as an editor for Hoard's Dairyman. If that career sounds enjoyable to you as well, I encourage you to apply for our 2021 Hoard's Dairyman editorial internship.
From their first day on the job, our intern is integrated into our team. They work at our office in Fort Atkinson, Wis., and are part of the day-to-day interactions with our editorial staff members who offer mentorship all summer long.
A desire to write is important, as the intern does a lot of writing for our print magazine and our electronic publications. There are several projects our intern is in charge of each summer, and we encourage them to offer their own story ideas as well.
The internship also provides a few opportunities to travel, representing our magazine at dairy meetings, breed conventions, and farm visits. These trips are meant to generate content and give our intern a broader view of the dairy industry.
After a busy summer, our interns head back to school with new writing skills, work experience, and hopefully some life lessons, too. The office feels a little emptier when our intern leaves, but they forever remain a part of our magazine's history.
If you want to learn more about our internship, please visit our website for details. Take a look at the video featuring Abbie Cox (pictured above), our 2020 intern who is currently a senior at Cornell University.
The application due date for our 33rd internship is quickly approaching. We encourage any students with a passion for writing and dairy to apply by Friday, October 16, 2020. Students should mail a cover letter, résumé, grade transcript, and two written letters of recommendation from references to Abby Bauer, Associate Editor, 28 Milwaukee Ave. West, Fort Atkinson, WI 53538.
If you have any questions, please contact us at (920) 563-5551 or abauer@hoards.com. Remember, all application materials are due by October 16, 2020. Please apply today!
---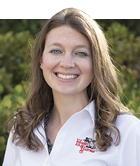 Abby Bauer
The author is the senior associate editor and covers animal health, dairy housing and equipment, and nutrient management. She grew up on a dairy farm near Plymouth, Wis., and previously served as a University of Wisconsin agricultural extension agent. She received a master's degree from North Carolina State University and a bachelor's from University of Wisconsin-Madison.