Any other year at this time, I'd be just returning from several days spent at World Dairy Expo. For many years, Expo has served as my own kickoff for fall. Traveling six hours north, the temperatures have started to drop, the leaves have started to change, and there's usually a few drizzly days mixed in there that are authentic fall weather. In preparation, I know it's the time to pull my coat and boots out.
Beyond the change in seasons, World Dairy Expo has an energy that fills the air and boosts one's enthusiasm. It's a place where you connect with friends, old and new, from across the country and the world. The best of the best dairy cattle are exhibited, and vendors show off their newest and most innovative products. The grilled cheese is always worth waiting in line for, as is the ice cream.
World Dairy Expo is an event for all ages. My dad says he hasn't missed one since the event began, just over 50 years ago. For him, it's a much needed break from the farm, albeit surrounded by everyone and everything essential to dairy farming. It's time with the people who share your passion and your struggles, both small and large, on and off the farm. I have distinct recent memories of one year where I spent much of the day outside trying to coax my young son off the shiny new tractors. Many people passed by and smiled as they mentioned they'd been in my shoes before.
As we all know too well, this year is like no other. The 2020 World Dairy Expo was canceled amidst the pandemic due to COVID-19. I know many of us are wistfully thinking about the colored shavings right now. I fervently hope we can reunite in Madison in 2021 and look forward to making more Expo memories then.
---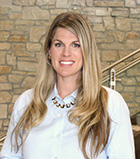 Erin Massey is the product development manager at Prairie Farms, a farmer-owned cooperative based in Edwardsville, Illinois. She is responsible for overseeing all aspects of the development process, from concept to commercialization. Erin grew up on a Florida dairy farm and has a deep-rooted passion to invigorate the dairy industry. Erin earned a bachelor's degree in chemical engineering from the University of South Florida. Her personal mantra is "Be Bold."