Dairy farmers have watched prices for their products climb to surprising highs and fall to devastating lows since the COVID-19 pandemic began in March. One disruption to the dairy food chain was the sudden closure of restaurants across the country. While the impacts on dairy were significant, it is hard to imagine what it is like to be a restaurant owner during these unprecedented times.
Eric Silverstein, owner of a food service business called The Peached Tortilla, spoke with C.O.nxt's CEO Mark Gale during a webinar titled "Restaurants reimagined: Insights and inspirations from a resilient chef." Silverstein, a former attorney, is based in Austin, Texas, a very competitive food market that ranked first in the nation in per capita spending at restaurants just a few years ago.
His business, which started out as one food truck ten years ago, grew into multiple food trucks, two full-service restaurants, a fast casual unit in an international airport, and a catering service. Then, the pandemic hit.
"COVID really felt like a giant tidal wave was about to engulf your house," he said. "You could feel business starting to dip, leading up to March 16 when we officially closed our dining."
Silverstein said he felt helpless, knowing there wasn't anything they could do to stop it. "We realized at that point it was going to be a very difficult road back to recovery," he said.
His business went down to only doing take out business from one location, generating less than 10% of their normal revenue. He said it is very unlikely for a full-service restaurant to match normal weekly sales doing takeout alone.
The switch to just delivery meant they had to limit their menu. They needed options that were more efficient, cutting down on waste and preparation since they weren't making as much profit.
In June, Silverstein was able to reopen for dine in service, but they are still running a slightly smaller menu and can only seat customers at 40% capacity. While Silverstein expects more people will return to restaurant eating when it is safer to do so, he believes there will be hesitation to seat people as closely as had been done before.
"I think that the economics of restaurants are probably forever changed in some way," he said. "This is largely because every square foot counts. Margins are thin, and an extra two seats makes a difference."
In the past six months, Silverstein has had to pivot his business model several times. While he said it was extremely difficult to see 10 years' worth of work wiped out in 10 days, he explained that those in the food service industry need to open their eyes for opportunities.
"If you are looking through the same lens you were six months ago, that is a big mistake. The world isn't the same six months deep into a pandemic," he shared. "It's important to recalibrate and reassess if your business is what it used to be and whether that opportunity is still out there."
He continued, "The key is to be honest with yourself. Sometimes in business, you have to let go of the past. I've had to let go of the past and certain things I sunk a lot of energy into, to be able to have the freedom to focus on the future. It will cause short-term financial pain, and that's just the reality of it."
He ended with advice he has shared with his employees before. "Life's not fair, and this is a perfect example of it. The sooner you realize that, the better, I think."
The pandemic has not been easy for anyone, and there's no doubt that many business owners have been hit particularly hard. Some of Silverstein's advice is certainly applicable to farmers; the ability to change direction and adapt your business model are keys to survival, especially in uncertain times.
---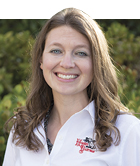 Abby Bauer
The author is the senior associate editor and covers animal health, dairy housing and equipment, and nutrient management. She grew up on a dairy farm near Plymouth, Wis., and previously served as a University of Wisconsin agricultural extension agent. She received a master's degree from North Carolina State University and a bachelor's from University of Wisconsin-Madison.