I grew up on a first-generation dairy farm, and some days, I hated it. I hated that sometimes the cows got out, and I was late to school because we had to put them away. I hated the jokes that kids made about me smelling like manure or wearing boots that actually had mud on them. I didn't always want to spend my evenings in the barn, feeding calves or helping milk.
My parents were often too busy to go to all of my games and events. We rarely went on vacation. I didn't understand why people would tell me that growing up on a farm was a blessing. I hated waiting for chores to be done before opening presents at Christmas time and that we had to leave family events early to do chores. I didn't understand why my friends always wanted to see the cows when they came over instead of hanging out in the house. Overall, I wasn't always proud to be a farm kid.
Looking back, getting to grow up as a farm kid was one of the best things that my parents did for me. I loved being able to have animals like horses, donkeys, sheep, alpacas, and goats along with our cows, and I loved naming the baby calves and watching them grow up. I just didn't understand that even all the things that I didn't like about growing up on a farm at the time would both help me later in life, and those would be the things that I miss the most when I'm away.
I wasn't proud to be a farm kid until I came to college and realized how privileged I was to know where my food came from and to have trust in the system that produced it. I had three self-proclaimed lactose intolerant roommates during my first year of college, one of whom was an on-and-off vegan.
Talking to them about my experiences and comparing them to their stories made it very clear to me that the way I grew up was actually really cool. That was also when I started to miss doing things like milking and feeding calves. The day that I brought them home to our dairy farm was one of the most memorable days of my college career, and the first day that I knew I wanted to be involved in ag communications.
I wasn't proud to be a farm kid until I understood that all those nights of feeding calves and milking cows had given me a work ethic that none of my city-hailing roommates could contest with. It instilled in me an appreciation for the responsibility that comes with being a farmer.
It also gave me hands-on practical knowledge that I still use when I'm at school and will take with me through the rest of my life. I'm not afraid to get my hands dirty because I'm a farm kid. I'm tough and can work under chaotic conditions because I'm a farm kid. I came to college already knowing how to blow up a tire, use a drill, and generally problem-solve my way through tough situations.
Growing up on a farm gave me more skills than I ever could've imagined, so be thankful that you're a farm kid.
---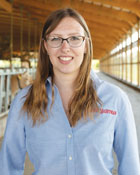 Abbie Cox grew up in Cato, N.Y. on a first-generation dairy farm and currently attends Cornell University as a member of the class of 2021, majoring in animal science with a minor in education and a focus in dairy. On campus, she is involved with the Cornell University Dairy Science Club, Sigma Alpha, Collegiate Farm Bureau, and is a Peer Adviser with CALS Student Services. Cox has interned with the MILC group, the Animal Agriculture Alliance, and was the 2020
Hoard's Dairyman
summer editorial intern.