This has been a disappointing week in my little corner of the world. An excavating crew has laid the groundwork for a new road that will be built in the field that has been my backyard view for the past seven years. Next will come more houses in our growing subdivision.
When we moved into our house, the open farm field behind our street was one of my absolute favorite features. I grew up in the country, and even though we chose to live in town rather than find a rural home, I still felt a connection to my agricultural roots each day when I looked out the patio window and saw that field.
Every spring, a farmer would come to plant either corn or soybeans. All summer long we'd watch that crop grow until the fall harvest when the combine would roll by. It was a chance for my young children to see farm machinery working up close ¾ literally in our backyard.
I knew this day would likely come, and as the years went by and our little town continued to expand, it seemed almost inevitable. Still, every spring I was so thankful to see the field get planted, knowing it was a sign that development was not happening yet.
I will undoubtedly miss the extra space and privacy the field offered, but even more than that, it is sad to see another farm field transitioned away from its agricultural purposes. This is a feeling that has been shared by past and present farmers for decades as urban sprawl pushed into agricultural areas. And before that, I am sure there was extreme disappointment and concern when forested areas and natural prairies were converted into farmland.
The ground underneath our feet is an amazing provider. Soil captures nutrients and water and grows crops that feed people and animals. It also supports plants and trees that clean the air, serve as animal habitats, and can be converted into paper, wood, and other products we use every day. However, the ground also provides a place for houses and apartments to be constructed so we have somewhere to live, and roads to be built so we can travel. Every piece of ground serves a purpose, in one way or another.
It seems fitting to honor this former farm field and the soil within it today, on Earth Day. It's a reminder to appreciate everything soil does for us and to do our part to preserve the natural resources that we can, no matter where we live. Even though my backyard view is soon to be less agrarian, I am still thankful for the little plot of land where our house sits and my kids can play outside. Whether you own hundreds of acres or have a small potted plant in your high-rise apartment, there is beauty in what can grow from just a little piece of dirt.
---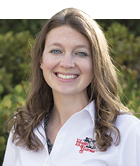 Abby Bauer
The author is the senior associate editor and covers animal health, dairy housing and equipment, and nutrient management. She grew up on a dairy farm near Plymouth, Wis., and previously served as a University of Wisconsin agricultural extension agent. She received a master's degree from North Carolina State University and a bachelor's from the University of Wisconsin-Madison.