I remember one year when we were leaving the Central Florida Fair hauling our cattle home, we realized we had a flat tire and immediately had to pull over on the side of the interstate. The next thing we know, another truck and trailer also leaving the fair pulls up behind us to make sure all is okay. This turns into a domino effect, because within a few minutes there are multiple trucks and trailers lining the side of the road and friends standing on the roadside ready to help with spare tires, lug wrenches, and jacks in hand.
This interstate is especially busy (Orlando = Disney World!), and naturally the commotion surrounding our flat tire caused traffic to significantly slow. A sheriff's deputy pulled up, got out, and expressed his frustration with how we've affected traffic. The details are hazy, but I'm pretty sure my dad said something to the effect of he was doing the best he could do in an unfortunate situation. The support of his peers may be a nuisance to those whose drive was slowed, but it meant the world to him. The sheriff's deputy then helped keep traffic moving while the tire was changed. He understood.
Friends who pulled over that day still mention the memory. It may be one of those stories where "you had to be there," but seeing those trucks and trailers lining the side of the highway is still etched in my mind. It was such an amazing illustration of our dairy community supporting a member in a time of need. I grew up with a built-in support network, and it wasn't until I became an adult that I realized how very special and fortunate having that community is. As I've tried to understand why so many people in today's society do not have that same experience, ultimately I have landed on the fact that very few careers are so tightly intertwined with life outside of work like farming is. It seems that the military, law enforcement, emergency responders, and other careers where one dedicates themselves and their family's lifestyle to the mercy of their job naturally form a community from those with a shared commitment. You know each other's dedication, and that shared bond speaks volumes.
Today, as we begin June Dairy Month, my heart overflows with gratitude that I am a member of the dairy community. As we celebrate and promote the products and lifestyle that defines us these next thirty days, I hope you are reminded that you are part of a special group, a family like no other.
---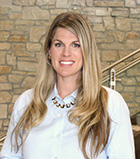 Erin Massey is the product development manager at Prairie Farms, a farmer-owned cooperative based in Edwardsville, Illinois. She is responsible for overseeing all aspects of the development process, from concept to commercialization. Erin grew up on a Florida dairy farm and has a deep-rooted passion to invigorate the dairy industry. Erin earned a bachelor's degree in chemical engineering from the University of South Florida. Her personal mantra is "Be Bold."