Irritated was one word to describe the emotions I felt in fourth grade. As I eagerly joined a local 4-H club, I was ready to become actively involved. Growing up on a dairy farm, the project area I wanted to explore the most was dairy, but of course, my parents said no.
Being a solely family-run operation, my dad was not thrilled about the idea of everyone being away from the farm and the possibility of added stress on a heifer. Lucky for me, my dad is a pushover who cannot say no to his daughter.
Not too long after, I was showing in a variety of cow and heifer classes, maxing out on county fair stalls, and showing at the state fair. Although I never did exceedingly amazing, I was often in champion lineups. Soon, a dream I had to beg to be a part of became a hobby that fed my competitive spirit.

Even though it did not feel like it at the time, all the good memories and hard moments I experienced while showing thought me these life-long lessons.
1. Be a good person, even when you think no one is looking. At my county fair, the showmanship class was at the end of the day, and this worked to my advantage. At times, the judge chose me among the competition, even if I did not place well in any of my classes. The judge noticed that I was smiling throughout the show, being kind to my fellow 4-Hers, and properly caring for my animals. I had no idea how much attention the judge was paying to my mannerisms, but it came to my advantage.
2. Get back up, you can redeem yourself. Whether it was the next class, the next day, or the next year, I learned that outcomes can change. I have been in numerous situations where my string bottomed classes one day and placed at the top the next. Although I was heartbroken in the moment, I learned that I must keep a positive attitude and think about the next chance to prove myself.
3. If you want it, go get it. With my parents' not-so-enthusiastic mindset, I discovered that if I want something, I need to be the one to set the plan in motion. No one else was going to register cattle, pay my entry fees, or train my cows to lead. Perhaps this lesson of persistence carries with me too much, but I learned to go after what I want and chase it until I reach it.

---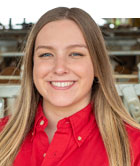 Jessica Schmitt
Jessica Schmitt grew up working on her family's dairy farm near Fort Atkinson, Iowa. She recently completed her junior year at Iowa State University where she is triple majoring in dairy science, international agriculture, and agricultural and life sciences education with a communications option. Schmitt is serving as the 2021 Hoard's Dairyman editorial intern this summer.