In the publishing world, it is always great to get feedback from our readers. Comments about our print and web materials let us know if we are heading in the right direction or how we can pivot to better meet the needs of our audience.
It is also rewarding to receive feedback from our peers, and one way we do that is by participating in the American Agriculture Editors Association's (AAEA) annual communications contest. This competition draws entries from across the country in the areas of writing, photography, advertising, and online content.
One product we enter annually is a few samples of our monthly webinars. These productions take place the second Monday of each month at noon Central Standard Time. A slate of unique speakers and topics are covered each year. The webinars are also archived for later viewing.
After submitting our entries in the spring, we learned at AAEA's annual Ag Media Summit earlier this month that our webinars swept the category, earning first, second, and third place. In all, over the past 9 years, our webinars have earned eight first place awards, nine second place awards, and eight third place finishes!
In addition to this recognition, we also receive feedback from the judges on what they liked best about our webinars and written entries and what we can improve. Carrying on the tradition that was established by the third editor of Hoard's Dairyman, Bill Hoard Jr., who is credited with the quote, "The next issue will be our best," it is our goal to improve continuously.
If you haven't joined us for one of our monthly webinars before, I would encourage you to do so. You can learn more and register at www.hoards.com/Webinars. Our September webinar will feature Bob James, a professor emeritus from Virginia Tech. He will discuss automated calf feeding in his presentation, titled "Raising calves on autofeeders — will it work for you?"
The Hoard's Dairyman monthly webinars began in 2011. We work in a partnership with the University of Illinois to produce them. Over the past 10 years, we have covered an array of topics from nutrition to cow health to hoof care and so much more. If you'd like to view any of our past webinars, please visit our archives at www.hoards.com/Webinar-Archives.
More specifically, feel free to check out our winning webinars from 2020!
First place:
The implications of high pregnancy rates on reproductive strategies
by Paul Fricke, University of Wisconsin-Madison (May 2020)
Second place:
Feeding and management for milking system success
by James Salfer, University of Minnesota Extension (August 2020)
Third place:
Calcium and the transition cow
by Garrett Oetzel, University of Wisconsin-Madison School of Veterinary Medicine (September 2020)
---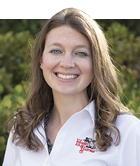 Abby Bauer
The author is the senior associate editor and covers animal health, dairy housing and equipment, and nutrient management. She grew up on a dairy farm near Plymouth, Wis., and previously served as a University of Wisconsin agricultural extension agent. She received a master's degree from North Carolina State University and a bachelor's from the University of Wisconsin-Madison.