Informational sessions have been a cornerstone of World Dairy Expo for decades as dairy producers and industry leaders converge to share their expertise, research, and ideas with each other. Year after year, attendees look forward to hearing from knowledgeable speakers during Expo Seminars, Virtual Farm Tours, and Dairy Forage Seminars. Two years ago, guests enjoyed the first iteration of Knowledge Nook Sessions, and this year, Tanbark Talks were unveiled.
The other new educational offering this year meets the needs of yet another audience important to the industry. Expo en Español kicks off this week with three presentations designed for Spanish-speaking dairy owners, managers, and mid-managers to help their farms be successful.
"We are excited to offer new opportunities to these key industry members at Expo this year and for years to come," said Expo International and Youth Specialist Cassi Miller when the program was announced this summer. The sessions will run from 2 p.m. to 3 p.m. Wednesday through Friday in Mendota 1 in the Exhibition Hall.
Wednesday's session drew about 40 people to hear Elsie González of Motiva Consulting discuss five practices to strengthen a diverse farm team. Her engaging presentation encouraged all attendees to think about how they interact with their co-workers and managers to help the farm business operate efficiently.
Specifically, González highlighted these five factors:
Connect with those around you. This includes finding common interests and opportunities to get together, from a birthday to a casual meal.
Listen and ask questions. Attentive listening allows you to focus on what is actually being said. Asking the right questions at the right times helps you have a better conversation and understand what is expected from all parties.
Provide feedback. González shared that a productive feedback conversation includes specifically describing the observation and the impact of that action, discussing the situation with the employee from their perspective and possible solutions, confirming that they understand, and, finally, thanking them for their work.
Change your lens. A different perspective affects how we see, interpret, think about, and ultimately interact in a situation.
Sometimes you are the problem. Walking in the other party's shoes can provide valuable insight into the situation
A variety of questions from the audience sparked discussions after González's presentation. During a group activity, she reminded them that change takes flexibility, time, and patience. It doesn't happen in one day.
This Expo en Español session is just the beginning of a whole new aspect of Expo's educational programming to ensure that all who contribute to the success of the dairy industry have the tools they need to do their job. Stop by one of the other presentations this week to learn more!
Hoard's at Expo is sponsored by Agri-Plastics Group of Companies
---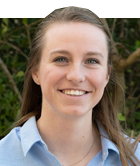 Katelyn Allen joined the Hoard's Dairyman team as the Publications Editor in August 2019 and is now an associate editor. Katelyn is a 2019 graduate of Virginia Tech, where she majored in dairy science and minored in communication. Katelyn grew up on her family's registered Holstein dairy, Glen-Toctin Farm, in Jefferson, Md.