Ken Main and Kenny Joe Manion of Copake, N.Y., are no strangers to purple banners and blue medallions. The duo is most notable for their accomplishments with Cutting Edge T Delilah, the Supreme Champion of the 2018 and 2019 International Show and 2018 Junior Show.
Main and Manion struck again as their cows were named Grand Champion and Reserve Grand Champion of the Brown Swiss Show. Cutting Edge Thunder Faye won the Aged Cow, Six-Year-Old and Over Cow class and continued to win Senior Champion and Grand Champion.
Following close behind, senior 3-year-old Cutting Edge F Faroh-ETV was named Intermediate Champion and Reserve Grand Champion.
The Reserve Senior Champion went to Iroquois Acres Jong Cali, owned by California's Matthew Pacheco. The Aged Cow placed second in her class behind Faye.
Siegrets Damian Pinapple was the Reserve Intermediate Champion of the open show. The senior 3-year-old was in the same class as Faroh and is owned by Leslie and Linda Bruchey of Westminster, Md.
Pit-Crew Formula Tawny was titled Junior Champion of the International Brown Swiss Show and Junior Show. The Winter Yearling is owned by Pit-Crew Genetics and was exhibited by Abby Foss.
The Reserve Junior Champion of the open and Junior Show went to Wright-Way Famous Tik Tok-ET. The heifer champed a class of 41 competitors and is owned by Landree and Dakota Fraley of Muncy, Pa.
In the Junior Show, Matthew and Allison Thompson of Darlington, Wis., claimed the honors of Senior Champion and Grand Champion. Their 10-year-old, Random Luck B Tea Rose, won the Component Merit Class.
Receiving Reserve Grand Champion and Senior Champion of the Junior Show was Mase's Manor Grandslam Love. Owned by Makenna Mase, the Aged Cow comes from Cochranton, Pa.
From Kentucky, Hadleigh, Ezra, and Kenna Jones own the Intermediate Champion of the Junior Show. The junior 2-year-old, Kruses LJ Fab Skylar-ET, was first-place junior in the class and second in the open show.
The Reserve Intermediate Champion of the Junior Show was Johann Carter Dartmouth. The junior 3-year-old is owned by Brayton, Ryland, and Camdyn Nierman of Brownstown, Ind.
The Premier Breeder was awarded to Elite Dairy 2 of Copake, NY. Pit-Crew Genetics of Cambridge, Minn., was honored as the Premier Exhibitor. In the heifer show, Pit Crew Genetics was titled Premier Breeder and Premier Exhibitor. Voelkers Td Carter was the Premier Sire and the heifer show's Premier Sire.
Hoard's at Expo is sponsored by Agri-Plastics Group of Companies
---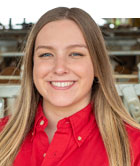 Jessica Schmitt
Jessica Schmitt grew up working on her family's dairy farm near Fort Atkinson, Iowa. She recently completed her junior year at Iowa State University where she is triple majoring in dairy science, international agriculture, and agricultural and life sciences education with a communications option. Schmitt served as the 2021 Hoard's Dairyman editorial intern this summer.