As the first day of cattle shows came to a close at the 2022 World Dairy Expo, Judge Joe Sparrow of Owenton, Ky., tapped the winning Senior Three-Year-Old as his Grand Champion at the International Milking Shorthorn Show.
Sparrow said that Lazy M Wildside Genette-EXP handily won her class with her angularity and beautiful mammary system. She went on to earn Intermediate Champion honors before being named overall champion. Genette is owned by Peter Vail of Englewood, Fla.
"She just keeps getting better and better and better," he said during the championship pull. "Today, she's the best cow in this show." Sparrow and his associate judge, Matt Fry of Chestertown, Md., evaluated 243 animals during the International Milking Shorthorn Show.
The Reserve Grand Champion was Pine-Valley-P Junebug-EXP, owned by Leah, Jason, and Jessica James and Cory and Kristen Salzl of Corstar Farm in Litchfield, Minn. Junebug was also the Senior Champion of the show.
The Reserve Senior Champion was Molehill Lottery Caliente, a 5-year-old cow owned by Mike Gregory and Tyler Endres of Oxford, Wis. The Reserve Intermediate Champion was the first place Junior Three-Year-Old, Henkeseen Royalty Reason-EXP owned by Trent and Matt Henkes of Luana, Iowa.
The winning fall calf, Lands-Brook Knh Chilli-Pepper, was named Junior Champion. She is also owned by Peter Vail of Englewood, Fla. Following her as Reserve Junior Champion was Heavenly Lookin Good-ET, a winter yearling owned by Brian and Traci Neely of Utica, Pa.
In the Junior Show, a pair of 4-year-old cows topped the show. Heavenly Zora-ET won Senior and Grand Champion honors for her owner, Dillon Freeman of Bremen, Ind. DND-Pirelli Onsight-EXP was named Reserve Champion and Reserve Senior Champion. She was shown by Jaxon Burris of Mabel, Minn.
The Intermediate Champion was Jomill Mr Right Aloha, a Junior Two-Year-Old exhibited by Aubree, Aiden, and Alaina Topp of Botkins, Ohio. Reserve Intermediate Champion was Brand-New Z Fall In Love-ET, a Junior Three-Year-Old shown by Colton and Ashley Brandel of Lake Mills, Wis.
The Junior Champion was a winter calf, Woodsey-Dell Lran Chopper-EXP, exhibited by Alora Sprout of Springville, Pa. Halpins Rockstar Dixie, owned by Colt and Owen Halpin of Halpin Farms in Buckingham, Ill., was Reserve Junior Champion.
Michael and Herman Maier of Stitzer, Wis., earned the Premier Breeder and Premier Exhibitor banners. They were also the Premier Breeder of the Heifer Show, while Peter Vail of Englewood, Fla., was the Heifer Show's Premier Exhibitor. Premier Sire was North Stars Presto-ET-EXP. The Heifer Show Premier Sire was Halpin Muddy Rockstar-TW.
---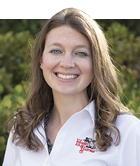 Abby Bauer
The author is the senior associate editor and covers animal health, dairy housing and equipment, and nutrient management. She grew up on a dairy farm near Plymouth, Wis., and previously served as a University of Wisconsin agricultural extension agent. She received a master's degree from North Carolina State University and a bachelor's from the University of Wisconsin-Madison.