While cows are front and center at World Dairy Expo, the high-quality feed needed for dairy cattle to remain productive and healthy is also recognized during the show. This year, around 300 entries were evaluated in the World Forage Analysis Superbowl. A luncheon and awards program announcing the top five winners in each category was hosted by Brevant Seeds on Wednesday, October 5.
The Grand Champion Forage Producer was Rodney Archer of Alamosa, Colo. He won the honor with his grass hay entry. Archer also won the Hay/Haylage category in the Quality Counts competition.
Grand Champion First-Time Entrant honors were awarded to Strassburg Creek Farm in Wittenberg, Wis., for a BMR corn silage entry. Meanwhile, the Quality Counts Corn Silage winner was Four Hands Holsteins of Amery, Wis., also with a BMR corn silage sample.
The World Forage Analysis Superbowl is organized by Dairyland Laboratories Inc., Hay & Forage Grower, U.S. Dairy Forage Research Center, the University of Wisconsin, and World Dairy Expo. Sponsors of the 2022 World Forage Analysis Superbowl were Brevant Seeds, Ag-Bag by RCI, Agri-King Inc., Barenbrug USA, Lallemand Animal Nutrition, NEXGROW Alfalfa, Scherer Inc., W-L Alfalfa, Legacy Seeds, Passion Ag Inc., Provimi, and QLF Agronomy.
The top five placings from each category are listed below. Congratulations to all the participating farms!
Grand Champion Baleage
1. Harry Bontrager, Bonduel, Wis.
2. Adams Creek Farm, Bangor, Wis.
3. Joseph Beachy, Bonduel, Wis.
4. Vogel Family Farms, Minden City, Mich.
5. Katherine Gulther, Walnut, Ill.
Grand Champion Commercial Hay
1. Hardrock Farms, Wheatland, Wyo.
2. Sandy Knoll Farm, St. John, Kan.
3. Lazy 2K Livestock, Wheatland, Wyo.
4. Cross Roads Farm, Center, Colo.
5. Beeson Farms, Climax, N.C.
Grand Champion Dairy Hay
1. Twin-Spruce Holsteins, Rose Creek, Minn.
2. Donald and Nancy Hasselquist, Osceola, Wis.
3. Holst Farms, Lake City, Minn.
4. KMR Dairy, Onarga, Ill.
5. E & A Milkers, Sigourney, Iowa
Grand Champion Grass Hay
1. Lazy 2K Livestock, Wheatland, Wyo.
2. Opportunity Acres, Lena, Wis.
3. Dantuma Acres, Rockton, Ill.
4. Rosedale Genetics, Oxford, Wis.
5. Indianhead Holsteins, Barron, Wis.
Grand Champion Alfalfa Haylage
1. Sand Creek Dairy, Hastings, Mich.
2. Ethan Haywood, Hastings, Mich.
3. Austin Haywood, Hastings, Mich.
4. Daniel Nolt, Spencer, Wis.
5. Devin Haywood, Hastings, Mich.
Grand Champion Mixed/Grass Haylage
1. Opportunity Acres, Lena, Wis.
2. Jenks Jerseys, Marathon, Wis.
3. Packenham Farms, Rib Lake, Wis.
4. True Farms, Perry, N.Y.
5. Curvin Brubacher, Stanley, Wis.
Grand Champion Standard Corn Silage
1. Twin Cities View, Manitowoc, Wis.
2. K and D Feedlot, Sioux Center, Iowa
3. Michael Martin, Colby, Wis.
4. Nyhof Dairy, Sioux Center, Iowa
5. Olsons Dairy Farm, Birnamwood, Wis.
Grand Champion BMR Corn Silage
1. Co-Vista Holsteins LLC, Arcade, N.Y.
2. Brown Star Farms, Gillett, Wis.
3. BS Acres, Dresser, Wis.
4. Brink Dairy Farm, New Woodstock, N.Y.
5. Litwiller Farms, Almena, Wis.
---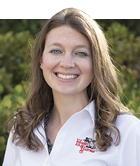 Abby Bauer
The author is the senior associate editor and covers animal health, dairy housing and equipment, and nutrient management. She grew up on a dairy farm near Plymouth, Wis., and previously served as a University of Wisconsin agricultural extension agent. She received a master's degree from North Carolina State University and a bachelor's from the University of Wisconsin-Madison.