Indulge me for just a moment. I have a complaint to file with Mother Nature. For crying out loud, let it rain.
As farmers, we all know the woes of depending on an unpredictable factor to fill a very predictable and inflexible need — feed for our cows. In my part of the world, it's usually a drought or severe weather that can greatly affect the type and quality of forage harvested each year.
We got one inch of rain the other night. That's the first time we have logged that amount of precipitation in one day since July of last year. The drought has been intense and at times debilitating.
Going into this forage production season, we know we must be resourceful and need to look at some alternative options we don't usually work with. We are already putting up some lower quality hay mixes for feeding heifers. We will also harvest all the straw we can. Then there are also considerations for fall forages.
If you find yourself in the same boat — or maybe it would be more appropriate to say in the same desert — consider this advice from extension specialists.
"For dairy, allocate the highest quality forage for the milking herd and youngest heifers," shared the University of Minnesota's Jim Paulson.
He would advise beginning your forage production season by calculating your needs.
"As harvest nears, having an accurate representation of forage inventory is an essential first step in planning out feeding year needs," he shared. "The next step is to build a feed and forage needs budget to estimate your farm's needs. After determining a reasonable estimate, calculate any additional forage needs to quickly identify and secure potential sources of forage or feed alternatives."
Fortunately, it is still early in the forage production season, and farms have time to calculate and find additional resources if needed.
Virginia Tech extension specialist Gonzalo Ferreira shared that there were three keys to having success with alternative forages in a previous Hoard's Dairyman Intel article.
"Our experience has shown that three factors are paramount to ensure a successful feeding program with alternative forages: good forage quality, adequate ration formulation, and excellent cow comfort and welfare," he wrote. "Control these three factors the best you can and feeding alternative forages will improve the resiliency of your dairy farm."
If you find yourself in my shoes this summer or fall, keep in mind that Mother Nature might not be on your side, but there are alternatives or options left to pursue. Good luck and happy forage harvesting.

---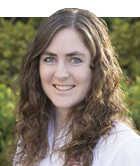 Maggie Gilles
The author is a dairy farmer in Kansas and a former associate editor at Hoard's Dairyman. Raised on a 150-cow dairy near Valley Center, Kansas, Maggie graduated from Kansas State University with degrees in agricultural communications and animal sciences.