Nigel Cook presented the
Hoard's Dairyman
monthly webinar on Monday, May 13, 2013, entitled "No more lame excuses." Lameness prevalence has increased over time and is not going away. This veterinarian shared research and practical applications to controlling lameness in your herd.
Studies show that lameness is not a regional issue, but is widespread to all housing and management types. Lameness prevalence was as high as 55 percent on some Eastern U.S. farms. On the other extreme, some high producing herds in the Midwest enjoyed just a 13 percent lameness incidence on confinement operations. This data shows that lameness is not a regional issue, but is widespread to all housing and management types.
Cook shared six tips to avoid lame excuses:
1. Sand bedding.
Stalls bedded with sand are comfortable and cows will rest for longer periods of time. With mattresses, the rests were shorter and had more up and down activity. Switching from straw bedding to sand showed a 2,500 pound jump in milk. In addition to milk production gains, the somatic cell count dropped and the turnover rate decreased. Cook was quick to point out that mattresses have improved in their design and construction; the gel-filled ones are approaching the benefits of sand.
2. Time to rest.
The amount of time spent resting depends on stall design, time spent milking, time in lockups, stocking density and heat abatement. Cows should only be out of their pen for 3 hours each day (for milking).
3. Effective trimming.
All cows should be trimmed at dry off with another hoof trim at 80 to 150 days in milk. Trimming heifers before calving is also becoming more common and is recommended.
4. Effective footbath program.
In the survey taken by webinar attendees, 69 percent use copper sulfate in their footbaths, while 28 percent use formalin. However, formalin is carcinogenic. Footbaths need to prevent new cases and stop current cases of infectious hoof disease from advancing. The ideal footbaths are now longer (10 feet) to allow more than one immersion per foot per pass, with 2 to 3 passes considered ideal.
According to Cook, there is not an ideal number of cows to pass through a footbath solution before it is replaced. The common suggestion is 200 to 300 cow passes. However, manure contaminants can dilute the active ingredients, as well as prewash footbaths that are intended to clean feet before treatment. Copper sulfate's popularity may be due to its ability to work in the presence of manure.
5. Flooring – trauma and wear.
Rubber flooring has been used on transfer lanes, holding areas, milking parlors and pens to make walking surfaces more comfortable. For uncovered concrete, design has an impact on cow comfort. Ideally, grooved concrete should have 3 1/4 inch strips with ¾ inch wide groove gaps that measure ½ inch deep.
6. Adequate heat abatement.
When cows are under heat stress, they stand more. This raises the incidence of lameness over time.
Cook directed viewers to a valuable resource for those wanting to learn more about foot care and lameness, http://thedairylandinitiative.vetmed.wisc.edu. This website contains a broad spectrum of information on building and design.
Zinpro Performance Minerals (www.zinpro.com/dairy)
sponsored this webinar which will be archived online at the end of this week.
If you'd like to learn more about our Webinars, Dairy Management or Animal Care follow these links.
---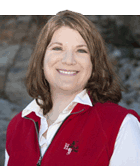 The author is the online media manager and is responsible for the website, webinars and social media. A graduate of Modesto Junior College and Fresno State, she was raised on a California dairy and frequently blogs on youth programs and consumer issues.