June is Dairy Month has been celebrated since 1937. Each region, state and town has its own unique way to honor dairy cows, the people who care for them, and the variety of nutritious products they produce.
Last weekend, I volunteered my time to the "Cows on the Concourse." This dairy-promotion event is organized by the Dane County (Wisconsin) Dairy Promotion Committee. The backdrop of the celebration is the beautiful Wisconsin capital.
Saturday mornings are popular on "the square" with the fresh vegetables from the farmers' market vendors surrounding the capital block. Tourists and sight-seers blanketed the popular Madison attraction.
The free event began at 8 a.m. and ended at 1 p.m. There was truly something for everyone.

For the dairy palette there was grilled cheese, ice cream and three flavors of milk. All of which were so popular, all were sold out before 1 p.m.! My time was spent buttering bread for the grilled cheese and flipping the sandwiches on a hot griddle.
Children's activities included face, arm and leg painting, exercise area and milk muscle photo-taking.
The entertainment tent had guest speakers talking about the economic benefit to Wisconsin that dairy farms provide. Fun was interjected with a cream puff eating contest and live music.
For the young and old, cows and calves from most breeds were onsite to touch and feel. Each of the dozen animals had a personal "moo expert" to answer questions from the public. The moo experts were always engaged with small children and parents alike. The questions and discussions covered the wide spectrum of topics. That may have been the most valuable component of the day.
Even dairy farmers should consider taking in a June is Dairy Month activity. It will remind them of the contributions they make to the community and food chain. And, those "city folk" should certainly consider attending. The opportunity to learn and share from each other can arise when you least expect it.
---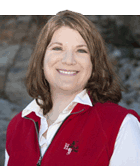 The author is the online media manager and is responsible for the website, webinars and social media. A graduate of Modesto Junior College and Fresno State, she was raised on a California dairy and frequently blogs on youth programs and consumer issues.