Known for its delicious custard, Culver's in Johnson Creek, Wis., celebrated June is Dairy Month with its 1st Annual Culver's and Cows Event on Monday, June 10. Two local 4-H clubs, the Rock Lake Troopers and the South Side Eagles organized the event. The 35 young people delivered the food orders and cleared tables in a packed restaurant, which overflowed into the outdoor eating area.
Open parking stalls were at a premium, as customers remained after dinner to learn about dairy at one of several educational dairy stations. At her assigned location, one upbeat 4-H member asked, "Do you want to learn about cheese?" With an affirmative response, she then asked if we wanted an easy, medium or hard question. She proceeded to ask the hard question, which we got right. (It was a true or false question, so we had a good chance of being correct.) There were cow erasers, temporary tattoos, postcards depicting Wisconsin cows and bookmarks for all to take.
A young child is on his tippy-toes to pet the calf
as event volunteer Tracy Brandel shares information about the calf
Located in a pen under a shaded tent, were two calves, a Holstein and a Red and White. The calves received a lot of attention from the customers and they asked questions to the 4-H members and their 4-H leaders about the animals.
There was a station with a wooden life sized cow, where people could squeeze the teats and "milk" the cow. Face painters were busy adding spots to childrens' faces, arms and legs. There was a lot of coloring dairy and farm scenes by the little ones.
Despite some early hurdles, the Culver's owner was very excited with the turnout. He wanted lots of photos of the event to share! Hopefully, there will be a 2nd annual event next year. The persistence of the organizers to work through challenges should give others planning dairy events the motivation to continue to find options.
The 4-H members proudly wore Culver's shirts stating "Thank you farmers" as they worked the event. Ten percent of the proceeds from the sales of food and custard from 4 p.m. until 8 p.m. were donated to the two local 4-H clubs.
An event organizer and 4-H mom, Tracy Brandel, operates a dairy with her husband and his family. The committee started planning the event in March. "The fundraiser was truly a success and the 4-H members had a wonderful experience promoting dairy!" commented Brandel.
To learn more about Dairy Promotion follow the link.
---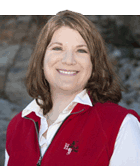 The author is the online media manager and is responsible for the website, webinars and social media. A graduate of Modesto Junior College and Fresno State, she was raised on a California dairy and frequently blogs on youth programs and consumer issues.