The information listed below has been supplied by dairy marketers and other industry organizations. The information provided here has not been edited, verified or endorsed by Hoard's Dairyman.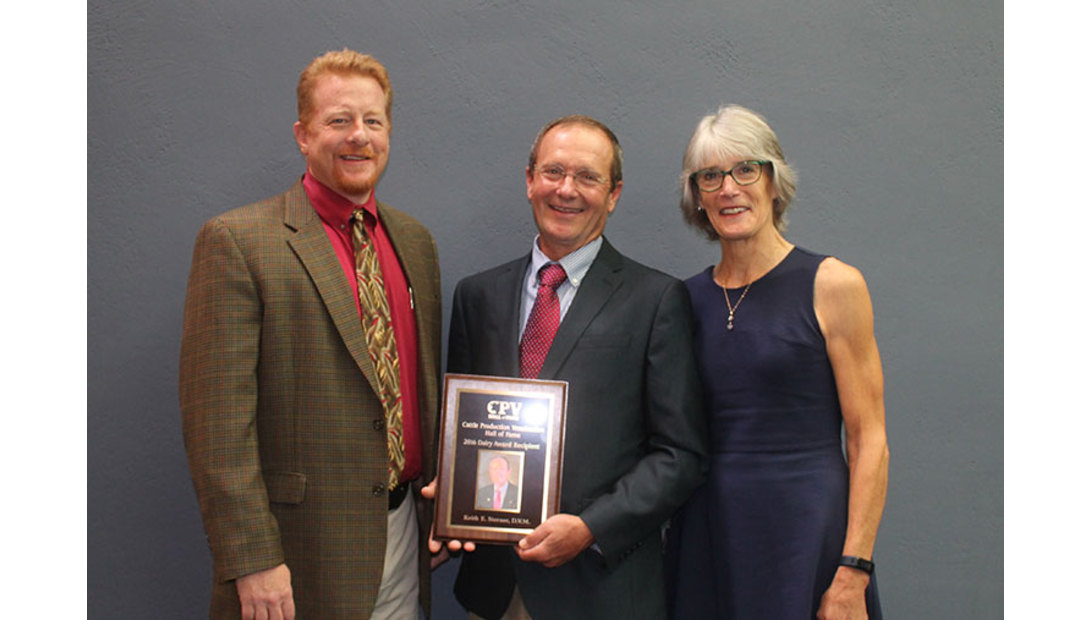 Tommy Zerse, D.V.M, Merck Animal Health, with the 2016 Cattle Production Veterinarian Hall of Fame Dairy honoree, Dr. Keith Sterner. Sheila McGuirk, D.V.M., University of Wisconsin, presented the award.
Since the veterinary profession began 250 years ago, veterinarians have been helping farmers and ranchers do what they do best – produce safe, nutritious food for the world. And there is no one more dedicated to the health and well-being of animals than the cattle production veterinarian. This week nearly 2,000 attendees had the privilege of honoring veterinarian, Keith E. Sterner, D.V.M., at the annual Cattle Production Veterinarian Hall of Fame (CPVHOF) awards ceremony during the 49th American Association of Bovine Practitioners (AABP) Annual Conference in Charlotte, North Carolina. Dr. Sterner was selected by his peers – including members of AABP and the Academy of Veterinary Consultants (AVC) – from a group of five dairy veterinarian nominees.
"The dairy industry has been fortunate to benefit from the knowledge and contributions provided by this outstanding veterinarian," said Brent Meyer, D.V.M., beef cattle technical services, Merck Animal Health. "Dr. Sterner has contributed to the cattle industry through scientific advancements and disease control, however, their biggest contribution may be the legacy they leave through the students they taught."
2016 Dairy Inductee – Dr. Keith E. Sterner (Ionia, Michigan)
Dr. Sterner is a graduate of Michigan State University, where he completed his D.V.M. degree in 1969. He served in the U.S. Army Veterinary Corps from 1970 to 1972. Dr. Sterner then went into private veterinary practice in Ionia, Michigan, with his father, the late Dr. Edward F. Sterner, where he became an owner and partner until his retirement in late 2011. He still remains active as a consultant and a backup for the practice. In 1982, Dr. Sterner collaborated with Dr. Jorgen Grymer in developing the Grymer/Sterner
® toggle suture method of left displaced abomasum (LDA) repair.
Dr. Sterner had many great achievements during his time as a veterinary career, but some of his fondest memories were experienced during his time as a teacher. "One of the most memorable aspects of our practice, outside of our clients and their animals, were the hundreds of veterinary students that we mentored from all over the world. Their presence provided a constant stimulus for our own continuing education. Many long time friendships have been forged and we consider a great number of them as family," said Dr. Sterner.
From his private practice base, Dr. Sterner has been active in organized veterinary medicine including several national leadership roles. Dr. Sterner was president of AABP in 1989, and his leadership within the AABP was crucial in the development of the extralabel drug use policies. He also served as chairperson for the U.S. Food and Drug Administration (FDA) Veterinary Medicine Advisory Committee when the FDA framework document on antimicrobial drug categories was developed. Dr. Sterner also has been a champion of Quality Assurance for beef and dairy and currently serves on the NCBA Beef Quality Assurance Advisory Board as a dairy representative. He continues to pursue his interest in organized veterinary medicine, veterinary devices and inventions in his "retirement."
Established in 2011, CPVHOF honors the traditions of production veterinary medicine and the individuals who have made a lasting impact on the profession. Through early mornings, late nights and harsh weather conditions, veterinarians are a steadfast and essential part of cattle production. The CPVHOF celebrates the rich traditions of cattle production veterinary medicine by honoring the exceptional men and women who have made lasting contributions to their profession. Inductees are true pioneers whose achievements span their entire careers. The Hall of Fame is sponsored by Merck Animal Health, the American Association of Bovine Practitioners, the Academy of Veterinary Consultants, Bovine Veterinarian magazine and Osborn Barr.