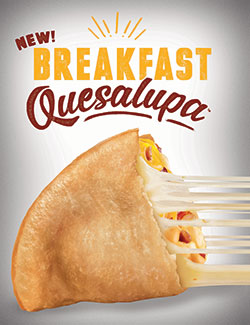 That was a question I posed to Taco Bell's Food and Beverage Innovation Team on a visit to its Irvine, Calif., corporate headquarters in mid September.
"When we traditionally looked at the supply base for dairy, we had really seen it as a commodity," recalled Mottershaw. "We looked at cheese in the food as a garnish and viewed cheese as a commodity ingredient coming into our facilities.
"We had a complete 180-degree turn on the situation," Mottershaw went on to say.
"What do Taco Bell customers crave?" she asked rhetorically about the 50 million people who frequent its stores each week.
"It's about craveability, taste, and affordable price. When you look at the role of cheese and what cheese can bring to the menu, cheese can brilliantly deliver on taste and the eating experience as well," said Mottershaw. "DMI really helped us open our minds to that and in the process opened a whole new platform to us."
"We frequently use focus groups to evaluate new products," noted Steven Gomez, manager of Taco Bell's Food and Beverage Innovation Team. "When we started to move cheese from garnish to center stage, consumer panels would totally get passionate about cheese," stated the 10-year Taco Bell veteran.
"Words like 'ooey gooey,' 'cheese pull,' and 'melted cheese' routinely were being used by consumers to describe our potential new product offerings. Quite frankly, these words were new to us and were not in the initial product descriptions.
"That's what really began to shift our focus to cheese. We found consumers really loved cheese," said Gomez of the restaurant chain with 7,000 U.S. locations and 300 additional storefronts in Canada and Latin America.
To learn more about Taco Bell's approach to cheese, listen to audio comments from Taco Bell's Heather Mottershaw, who has 13 years of expertise with Taco Bell. A note to the listeners, at times there are questions from Hoard's Dairyman Managing Editor Corey Geiger.
This Hoard's Dairyman Intel article is part of an eight-part Dairy Food Maker series with Taco Bell. It details a partnership that began with Taco Bell and Dairy Management Inc. (DMI) in 2012 and continues to this day with Dairy Checkoff dairy scientists working directly at Taco Bell's headquarters in the greater Los Angeles, Calif., area.
Click here to view previous reports from this Taco Bell series:
Cheese glues tortilla shells together
Cheese pull captures consumers
Dairy farmers contribute to Quesalupa launch
Hoard's Dairyman
for the Food Maker series.
To comment, email your remarks to intel@hoards.com.
(c) Hoard's Dairyman Intel 2016
November 21, 2016