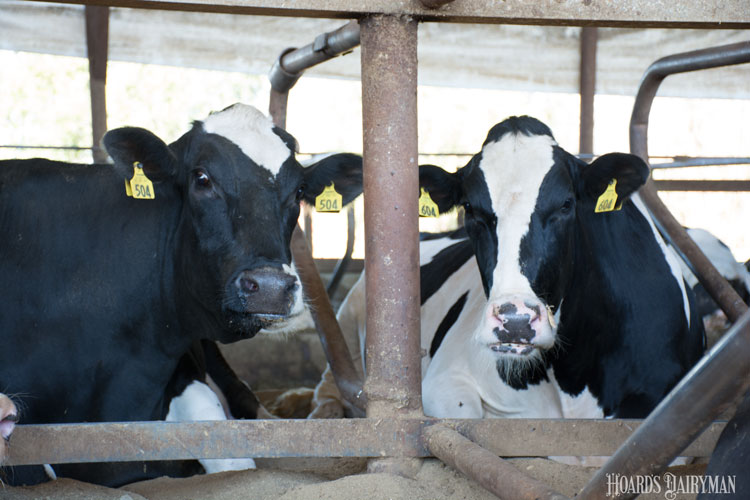 If there is ever a time that cows experience more stress, it's during the transition period. That's the time just before, during, and after a cow has a calf. It also happens to be the time caretakers can do the most good with extra attention.
"Fresh cow diets should encourage the consumption of small, frequent meals that are difficult to sort and that stimulate rumination," explained University of Guelph dairy scientist Trevor DeVries. "That's because frequent meals are associated with greater dry matter intake. And promoting dry matter intake is important for meeting the nutrient requirements of the cow at that time.
"Rumination, or rechewing the forage cud, in early lactation is well-related to production and health," DeVries went on to explain.
"We know that rumination drops in cows that develop health issues in early lactation," DeVries told those attending the 13th Western Dairy Management Conference in Reno, Nev. "Milk yield drops about four to five days prior to a displaced abomasum (DA) and rumination drops six to eight days before a DA."
Of course, forage encourages rumination as opposed to concentrate feeds such as grain. But not all forage is equal.
"Fresh cows in the first 28 days of lactation had more depressed rumen pH when fed a total mixed ration with long straw (2 to 3 inches) versus short straw (1 inch in length)," said DeVries, explaining that sorting becomes an issue when longer-stemmed straw, or longer-stemmed forages for that matter, are included in the ration. When sorting occurs, the ration formulated on paper does not actually reach the cow's digestive system.
Encouraging rest or lying activity also is crucial because it's during this time that rumination most often takes place.
"Cows ruminate about 75 percent of the time while lying down," the Canadian scientist went on to explain.
Stimulating eating activity and rumination
Limiting overcrowding during the prefresh and fresh period is one of the best strategies dairy farmers can do to encourage intake and rumination.
"Every time we overcrowd cows, lying time drops," said DeVries. "We really need to avoid this situation in fresh cows.
"In addition, separating first-lactation cows from mature cows can be another effective strategy because it allows better access to resources for young cows," he said, noting those resources include feed, water, and stall space. "At the same time, we must keep in mind that every time we regroup and move cows, we add stress. That stress leads to reduced rumination, less intake, and less milk," said DeVries.
Not only is providing a quality ration important but so is maintaining continual feed availability.
"If we push up feed and cows come running, we missed the boat," he said. "That's poor feedbunk management."
While many people focus on feed rations and delivery, along with cow grouping strategies, everyone must remember that access to water is equally important.
"More is better when it comes to providing water space for cows," concluded DeVries.

(c) Hoard's Dairyman Intel 2017
May 1, 2017