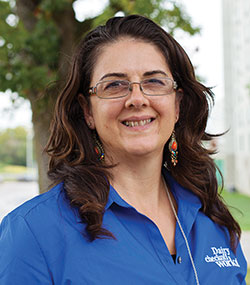 I have a farmer friend who celebrates the birthday of her special cow. I can honestly say that is not a standard operating procedure that I've ever implemented on our farm. I wouldn't know where to start in organizing birthday festivities for our animals. It might be the procedure that pushes me over the edge.
I have another friend who is also good at remembering birthdays on their farm, not with the herd of 900 cows, but with their employees. Ellen is super disciplined to make cupcakes or brownies for employees who are celebrating their special day. Now this is a procedure I can work toward on our dairy. It is an extra effort that keeps the work place healthy and shows employees that they are appreciated.
I find it fascinating how people observe their special day. Each family looks at birthdays with a unique twist that fits their lifestyle and personality.
When a farm is thrown in with all that specialness, it has the potential to be interesting. Duane and I both have birthdays in the spring and although there are a few years between us, our birthdays are only a few days apart.
Celebrating among the farm's springtime hustle has always been challenging, which is why I was shocked to hear of Duane's plans to add time onto his special day by including a "birthday eve" and a "second birthday." The birthday eve means he honors his birthday the evening before and his second birthday is a mimic of the Amish tradition to observe a second Easter, a second day of food and fellowship that always happens the day after Easter. I guess Duane decided that a birthday also warrants additional fellowship.
This means his second birthday falls on my birthday eve. I wasn't certain if this would bring conflict or if it would mean more celebrating. I didn't have to wonder long. A farm always has a way of bringing our ideas back to reality. The truth of our birthday week was that most of it was spent planting corn, chopping triticale, doing bookwork, and pulling weeds in my flower beds.
I wonder if my California friends celebrate birthdays under a hectic umbrella? We recently visited the Golden State, and in that trip I was reminded that their growing season continues throughout the year. In our area, we have one major growing season that puts a lot of pressure on the spring planting. There is a huge tug of war between spreading manure, planting corn, harvesting spring forages, and double cropping on those acres with additional corn. And it just so happens our birthdays fall in the middle of all that dairy goodness.
Even in the middle of all that busyness I do not feel cheated or outdone in anyway. Birthdays are important days for sure, but I have also come to recognize that it is more about the people we celebrate with than the material things around us.
We have a group of friends who all have birthdays within a few weeks of each other. Most of us are farmers, and finding a day that suits everyone to go out to eat is always the biggest hurdle.
We finally made it protocol that the dinner is on a rainy evening. Every year we manage to find a day, it is usually last minute, but there is always an abundance of good food, crazy memories, and laughter passed around the table.
There are birthdays that come around and have a much deeper meaning. We had one of those birthdays with my mother last summer. She was dealing with a broken pelvis from a recent fall, and she was not feeling well on her birthday.
We got a cake and tried to make the best of it, but she really didn't feel well. It was hard to see her down and out. In a few days, we headed to the hospital for tests, emergency stomach surgery, and a near-death experience from a blood clot. Reality smacked us in the face, and there were many hours in the hospital that I wondered if we just celebrated her last birthday here on earth.
Unfortunately, it sometimes takes experiences like that to remind us how special family is and how important it is to care for each other. The good news is that Mom recovered, and the misfortune she had last year is just a memory.
Birthdays are days that we create memories. Some of those memories stick and make us laugh every time it comes to our mind, like the time our son would not let us touch his cake because he was too busy playing with the farm animals I put on the icing. Some of the memories are more thoughtful and give us a heart full of emotion, as it was in the case of my mother.
Either way, the memories that we create on our special day are worth note and recognition. And if you are connected to a farm in one way or another, you have another gift because your celebration weaves in and around all of the farm's pleasures.
Common Threads is a regular column in Hoard's Dairyman. The author and her husband, Duane, own and operate a 550-cow dairy in Cochranville, Pa.