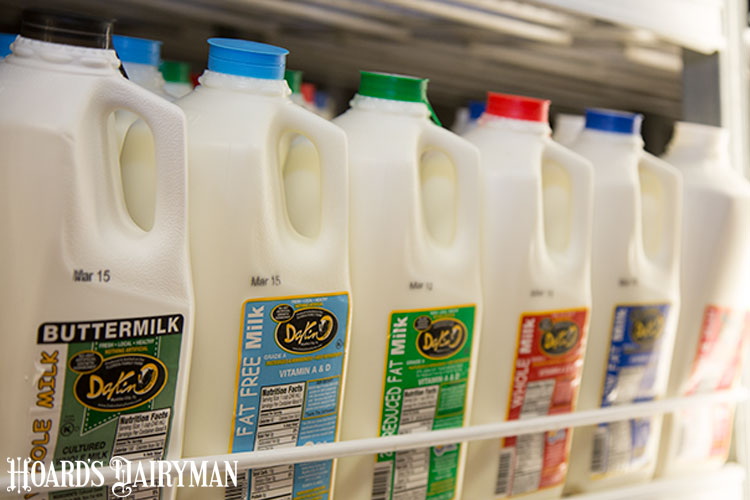 Even with whole milk sales climbing 5.4 percent in 2016, the entire fluid milk category fell for the sixth straight year, reported USDA's National Agricultural Statistics Service.
Overall, dairy beverage sales fell to 49.5 billion pounds in 2016. That was off just under 1 percent from the previous year's 49.9 billion in sales. While the decline subsided over the past year, the skid in fluid sales has been quite pronounced since 2010 as sales dropped from 54.9 to 49.6 billion pounds last year or 10 percent.
As mentioned earlier, whole milk has started to rebound as consumers embrace milkfat. However, whole milk sales are still a far cry from 40 years ago when national sales data posted 35.2 billion in total whole milk sales. For perspective, in 1976 the U.S. had roughly 216 million citizens . . . today that total is closer to 323 million. That makes the fluid milk plunge even more pronounced.
Flavored milk rebounds, too
Flavored whole milk posted its third year in growth as well, growing by 2.6 percent to 635 million pounds. Like its unflavored cousin, the category posted nearly double the sales four decades earlier — 1.48 billion pounds to be exact. Other flavored milk came close to posting a record at 3.98 billion pounds. The high watermark took place in 2010 with 4 billion pounds.
Low-fat is falling
Among the other fluid milk categories, 2 percent, 1 percent, and skim milk all fell. The lowest of low-fat — skim milk — fell 11 percent from 2015 to 2016 as sales skid to 5.1 billion pounds, the lowest levels since 1989.
To comment, email your remarks to intel@hoards.com.
(c) Hoard's Dairyman Intel 2017
October 9, 2017