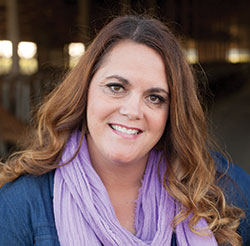 L
ittle did I know many moons ago I would end up setting the stage for my very own wedding proposal. Literally — I cooked the dinner and hung the decorations (it was just a few weeks before Christmas).
Scott worked all day, showered, and then got dressed like he was going to take me out. However, it was his birthday, and I had made supper. Later, I would learn that the outfit he chose to wear that evening was the very same outfit he wore when we first met at a cow sale — broken-in cowboy boots, Wranglers, and a button-down shirt.
He reminisced of the past and then spoke about our future. I was shaking and in tears, and when he dropped to one knee, I immediately said yes.
Soon, we will celebrate our 15th wedding anniversary. So many years now that we have to do math to figure it out. We always use farm expansions as a base point on when we got married or had children. "No, we got engaged before the parlor got rebuilt," I kindly remind my husband.
For those who know us well, you can tell our story. It was love at first sight, even though we lived hundreds of miles apart. Through expansions and babies, and sometimes those two occurring simultaneously, our future has boded well. Although, to be honest, looking back, I might not suggest expanding your family and farm at once; those years are kind of a blur.
Most of the years have been good to us. We have laughed, a lot. Burnt dinners became a family joke. "Mom, remember when you made that cornbread taco bake, except you used a berry bread mix instead?" my kids teased me. Scott laughed out loud and replied, "Even the farm cats wouldn't eat it."
Also, Scott and the kids love to laugh at my inability to back up anything. Thankfully, the kids didn't take after their mother and, also thankfully, I can laugh at myself. Kudos to Scott for that one. He makes me laugh — a lot, and has taught me to not take myself so seriously. So, more times than not, you'll see us laughing and smiling.
Which is good, especially because some of the years have been hard on us. We have cried a lot and held each other close. Losing both my parents and selling my childhood family farm was beyond difficult. But, difficult times teach you a lot about yourself. And it taught me even more about the person I'm married to.
My parents both died in the spring; busy times to say the least. But, despite plowing and planting and long hours that forced days and nights to intertwine, Scott checked in on me. A call or a text, inviting me to ride along. Occasionally, on really tough days, he shut off the diesel engine and came inside.
We've traveled quite a bit, mostly together as a family of five. Disney World is one of Scott's favorite places. Despite the massive crowds and abundance of noise, Scott's heart is calm and happy. He loves it there.
We've also traveled west many times to visit family and be there for their eternal goodbyes. We've made our way to cow shows and sales and breed conventions. Those days are good reminders that we are a part of a great industry.
But, I have to say, the ordinary days are what we have grown to love. Days of mixing feed, fixing fence, and sorting and vaccinating cattle are character building — laughter, tears, yelling, and apologies unfold, along with the cattle getting tended to.
Nights of sitting on hard school bleachers, watching one of our children play a sport or grilling dinner while kids walk show heifers make time go by quicker than I like. Those evenings allow us to pause and reflect, and honestly, that's where real growth happens.
Friends, I won't lie, we've aged. Along with it has come gray hair and wrinkles that we are no longer able to hide. But, 15 years together have made us a pretty good team. We know each other's role, yet are able to pinch hit when needed.
There is no way that 15 years ago we would have known what our lives together would have in store. We've learned it is okay to disagree, and at times we are forced to find middle ground. While Scott and I have a lot in common, we also differ on opinions. Marriage is not about being the same, it's about compatibility. Communication is the key behind it all.
Don't give up. We have fought several times, but never to the point where we've even considered throwing in the towel. We both had parents who illustrated longevity in marriage.
Love at first sight eventually brought us to 15 years of marriage. So much has changed — we began with 100 cows and 400 acres. Through expansions — rebuilding our parlor, adding two freestall barns, a manure storage, raising three babies who now are 14, almost 12, and almost 8, and today milking 500 cows and farming 1,300 acres — we still stand hand in hand.
Thanks be to God.
Around the Kitchen Table is a regular column in Hoard's Dairyman. The author and her husband work in partnership with family on a 450-cow dairy in East Moline, Ill.