The author and her family own and operate a 570-cow Holstein and Jersey dairy near Berlin, Pa.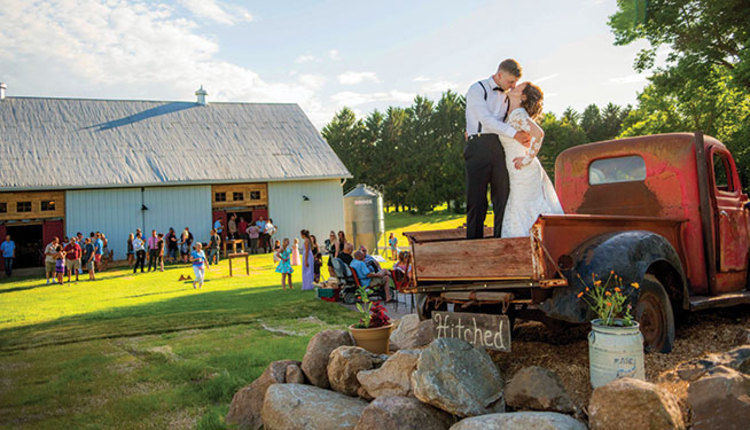 Old barns have history embedded in their walls. If those walls could talk, what stories they could tell of the joys and hardships of their farms. Abandoned barns dot the landscapes around the country, but for one century-old farm in Osceola, Wis., the barn has a new life housing weddings and special events.
Sara Haase and her husband, Jered, purchased the farm in 2012 after renting cropland from the previous owners, Allen and Barb Engelhardt. The Englelhardt family had been farming the ground for more than 100 years, and the 80-by-65-foot barn had originally been built around 1869. More recently, the barn's lower portion had been used to house beef cattle.
Sara said on their many visits with the Englelhardts, she could already see potential in the barn, despite the mows full of loose hay and "stuff" left from years of farm life.
"It is one of the largest barns I've ever seen, and I immediately thought what a magical place it would be for a couple to get married in," she said.
Jered's family has a 500-cow dairy only a couple miles from the farm, but Sara, Jered, and their daughter were living about 8 miles away in a small housing development. Jered was commuting to the dairy, and they were looking for more space for their growing family and to house dairy heifers as well. When the opportunity to purchase came up, they made their move — despite the downturn in the housing market and Sara being eight months pregnant.
A full-scale cleanup
Renovations to the barn began in April 2015 and took a full year to get everything done on the main level. Years of hay chaff was pushed down to the calves below as bedding, and "treasures" were saved to be used as barn décor.
The family did much of the cleanup and work themselves, including power washing the entire barn, much of it done on a rented boom lift to reach the ceilings. Other projects were hired out.
After learning they would have to replace the floor beams, they pulled up all the barn wood on the floor but saved it for later to keep an authentic look.
"We didn't want to compromise the floorboards," Sara said, "so Jered used the skid steer downstairs and put a long piece of wood on the bucket. We would gently raise the bucket until the nails released and the board came loose. We made our way down the entire length of the board."
After pounding out all the nails and restacking the lumber, new beams went in and a new subfloor was installed. Then Jered, along with many helpers, put the old wood floor back down.
Sara said they did purchase actual pine flooring at a lumber auction for a dance floor. "I wanted something our couples could move on," she laughed.
The original barn had an addition built in the 1960s, which wraps around two sides. A storage area and the air-conditioned bridal room were added to this section. "The winter of 2016 thankfully was mild, so we spent a lot of work days out there along with the help of friends and family," Sara said.
Grand opening the next year
Croix-View Farm held their first event in April 2016, a high school prom. A fundraiser followed, then 14 weddings were booked that opening season. Many of the clients booked while the barn was deep in renovations.
"It looked nothing like a place you'd want to hold your dream wedding," Sara admitted. "I asked many of them why they booked with the barn looking the way it did — I don't think I would have been that trusting! — and the majority of the responses were, 'We just could feel your passion, excitement, and were able to see your vision.'"
In 2017, the Haase family hosted 25 wedding events at the barn. Sara does the bulk of the business herself but is quick to point out that Jered has been supportive all along with manpower, building projects, and hosting events.
"I couldn't do this without him, and I am so grateful for his help," she said. "I tell guests that 'we are also dairy farmers' because Jered has his role at the family dairy. Even on his busiest days, he still finds time to help me with the barn."
They both "have their hands full" with life and work, but she said despite the long hours, they never really argued or disagreed about the vision for the barn. "It's always a good day when we are ambitious together," she said. "Even when I speak in 'Pinterest,' and he says 'level' and 'square,' the finished product was exactly what we were both talking about."
Keeping neighbors happy
The Haases own their own tables and chairs and sound system but don't cater meals. A specific disc jockey (DJ) list helps with not only selection but in keeping the neighbors happy with potential noise problems. "I wanted professional companies that would work within our sound parameters," she said. "We also no longer allow bands — although they are amazing in the barn, I just can't control the noise or my anxiety for that matter."
While the neighbors have been largely supportive, Sara makes efforts to be considerate of their space as well. Her events end at 11:30 p.m., with everyone out by midnight.
As the event barn business has become more successful, there have been challenges to the demands of family time and work. With two young children, ages 5 and 8, Sara said she's still learning how to balance it all.
To help that, she has adjusted some of her packages to allow more time with the family and is considering going to a 10 or 12 weekend season to adjust to their growing needs. With the current May to October schedule, Sara and Jered's busiest seasons often overlap.
"Sometimes I miss my summer and my kids," she said. "Don't get me wrong, I love what we are doing here. I love getting to know the families, watching a love story unfold, and meeting different people from all over. But I also don't want to get to a point where I'm burnt out and miserable."
This year, she purposely blocked off time at the end of July so she could enjoy the county fair and concentrate on her kids without worrying about what was happening with an event. Labor Day is also blocked off for family, but several fall weddings are booked in September and October. The final weekend in October is booked for their own family's fall party.
Sara believes that keeping their little piece of farming history alive and well is important. "Jered and I used to take road trips, and I would tease him about getting whiplash every time he checked out a dairy we passed," she said, "but now I find myself looking at old barns — whether dilapidated or well-kept — and I imagine it and the grounds as a beautiful venue."
For more on Croix-View Farm, and to see photos of the barn's renovation, visit their website at
www.croixviewfarm.com
or their Facebook page,
Croix-View Farm LLC
.