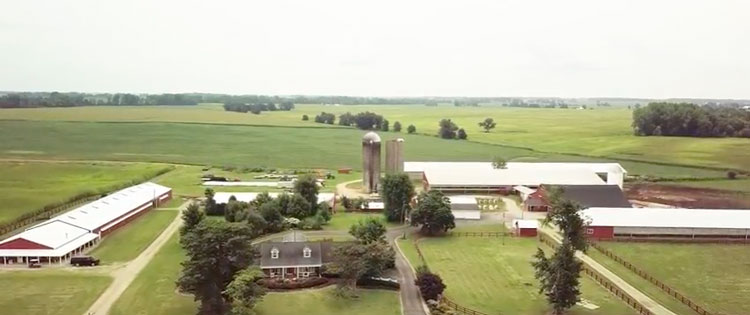 For the past 10 years, country music star Luke Bryan has brought his brand of country music to rural communities via a Farm Tour. The tour, which is visiting six family farms from Iowa to Florida this year, began Thursday, September 27 at the dairy farm of Bonnie and John Ayars.
"This Luke Bryan concert is not something that happens every day to everyone," Bonnie said before the concert. "We hope to turn it into something truly meaningful as we know it will be for our family. And, we also want to share it with our community."
The concert drew around 20,000 people last week, and the entire tour, which wraps up October 6, is expected to draw more than 100,000 fans.
"Farm tour is one of the most exciting aspects of our year," shared Luke Bryan in a press conference before the event. "It's a labor of love that we look forward to every year."
For Luke Bryan, the farm tour also reminds him of his childhood growing up in a small Georgia town where his family farmed.
"I remember being a kid from a small town and thinking we never had things like this," Bryan said. "Being a farmer is one of the trickiest, hardest jobs on the earth. We want to provide a fun, positive experience to a small rural community."
In addition to providing an experience, Bryan along with Bayer are donating scholarships and food to some of the most in need in those communities. Bayer's #HeresToTheFarmer campaign donates a meal to someone in need through Feeding America. Since the beginning of their partnership with Bryan's tour, they have donated nearly 2 million meals to area food banks. If you want to help, use the #HeresToTheFarmer hashtag on social media, and Bayer will donate a meal to the cause.
Luke Bryan's Farm Tour will make stops in Illinois, Iowa, Florida, South Carolina, and Georgia. You can learn more about it on his website.
The Ayars family milk 150 Guernsey, Brown Swiss, and Holstein cows near Irwin, Ohio. They also farm 1,000 acres of corn, soybeans, and hay, and produce their own branded ice cream product that is available in more than 30 local stores.
To comment, email your remarks to intel@hoards.com.
(c) Hoard's Dairyman Intel 2018
October 1, 2018