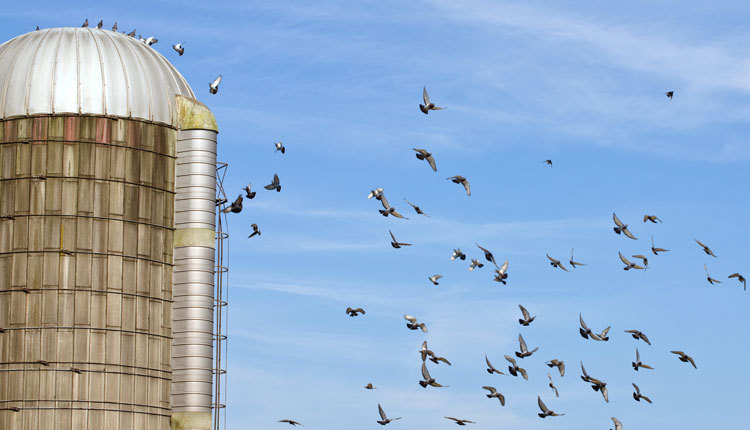 We build dairy barns for cows, but birds are often unwanted guests that also make themselves at home.
It seems that almost any farmer you ask will say that birds are a problem to some extent, and we know their presence can bring negative consequences. Unfortunately, the solutions available to keep them away aren't always successful.
Washington State University's Pest Bird Management Research Team conducted an on-farm study over the past year to assess the "big picture" of pest bird damage on dairies. Dairy Management Specialist Amber Adams Progar wrote about their findings in the Washington State University "Dairy News" website.
In Eastern Washington, the three bird species that were identified to cause the most damage were European starlings, pigeons, and sparrows. Dairies in the western part of the state reported that European starlings, and pigeons, and crows caused the most damage.
During peak presence, 51 percent of the Washington dairy farms surveyed reported that 1,000 to 10,000 birds were observed per day. When bird populations reach such high levels, health concerns arise.
According to Adams Progar, dairies that had more than 10,000 birds present per day were more likely to have Johne's disease or salmonella in their herds. In bird feces samples that were collected on five different dairies, salmonella was not found and Campylobacter was only found in one sample; however, 39 percent of the samples were positive for E. coli.
Beyond disease, the surveyed farmers reported losing an average of 4.4 percent of their feed to birds. The research team estimated that to be worth about $14.7 million in losses a year.
They also studied nutrient losses by allowing birds to eat from a feedbunk filled with fresh feed for 30 minutes while the cows were being milked. Adams Progar reported that in just half an hour, those farms lost up to 31 percent of net energy for lactation in the ration in areas where the birds were eating.
In addition, as the number of birds rose, cows showed more aggression toward them. This meant cows were spending more time being distracted by the birds and less time eating.
The project was funded by the Western Sustainable Agriculture Research and Education Program (Project # SW16-013). Future plans include evaluating bird deterrence methods for effectiveness and economic feasibility.
To comment, email your remarks to intel@hoards.com.
(c) Hoard's Dairyman Intel 2019
January 21, 2019