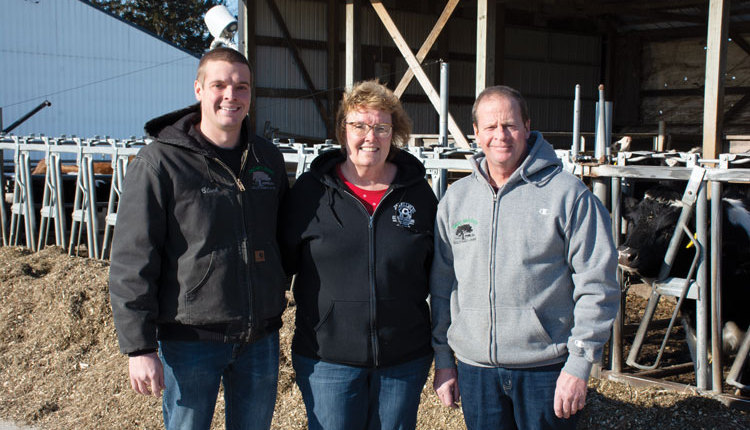 An on-farm retail store provides a unique opportunity, not only to sell products directly to customers, but to also bring them to the farm on a regular basis. Bridging the gap between customers and their dairy foods is important to the four farms in our February 10, 2020, Round Table article, "They sell their own products."
Besides being passionate about making and selling high-quality products, these farms are eager to educate the public in both their store and on their farms. The trick is balancing agricultural advocacy with the daily grind of operating a dairy, creamery, and store. Some families open their barn doors and offer farm tours on a regular basis; others, like the Kelley family from Fond du Lac, Wis., host special events instead.
Tim and Karen Kelley and their son, Clark, operate Oak Lawn Farm (pictured). Ten years ago, they opened Kelley Country Creamery, where they make and sell their own ice cream. The past few years, they have hosted an event called "Sunflowers Taking Flight" to support a good cause, the Northeast Wisconsin Old Glory Honor Flight organization. Read on to learn more about this event and how each of these families promote agriculture in their own way.
DeBacker Family Dairy Farm, Daggett, Mich.: We have a petting zoo during the summer instead of giving farm tours. We have an older 1970s style barn, so tours aren't really feasible, and we are concerned with biosecurity.
Glo-Crest Dairy and Mountain Fresh Creamery, Clermont, Ga.: We give farm tours and field trips by reservation only. We offer those three days per week. They last about two hours and include the dairy and the creamery. We have a booking calendar on our website, and people can also book by calling the creamery.
Kilgus Farmstead, Fairbury, Ill.: We allow customers to tour our farm by appointment only. Tours cost $4 per person, which includes the 1.5 to two hour walking tour and ends with an ice cream cone in the country store.
Many groups schedule tours. We see everyone from school and home-school groups, colleges, international visitors, 4-H clubs, mom's clubs, Red Hat Ladies, and retirement homes.
Each tour is catered to the group. For instance, with the school groups, we talk more about animals and animal care. For the retirement homes, we reminiscence about their farms growing up — and we always learn something from them! Mom's groups are more interested in the creamery and are confused with labeling and marketing and what is best for their families to eat and drink and why. We talk a lot about all different kinds of farming practices and why farmers do what they do.
Oak Lawn Farm and Kelley Country Creamery, Fond du Lac, Wis.: We hold a big event called "Sunflowers Taking Flight" where we grow sunflowers as a fundraiser for veterans to go on Honor Flights to Washington, D.C., and for other memorials. We ask for a $10 donation for a bundle of five sunflowers. We also design a new T-shirt each year for the event and ask for a suggested donation of $10.
The first year, $9,200 was raised, and this year we raised $20,248. All donations go to the Northeast Wisconsin Old Glory Honor Flight organization. The creamery or farm takes no money for the expense of the sunflowers, shirts, and so forth. The event generally lasts 10 days.
Farm tours are done on a limited basis due to time constraints.
The farm has diversified further with a new business last fall called Kelley's Farmstead, which is a fall agritourism business. We grow pumpkins for our guests to pick and have activities for all ages, including a corn maze. This spring, we will also have a lambing barn where guests will be able to come to the farm to see baby farm animals and feed and hold them.
To comment, email your remarks to intel@hoards.com.
(c) Hoard's Dairyman Intel 2020
February 17, 2020