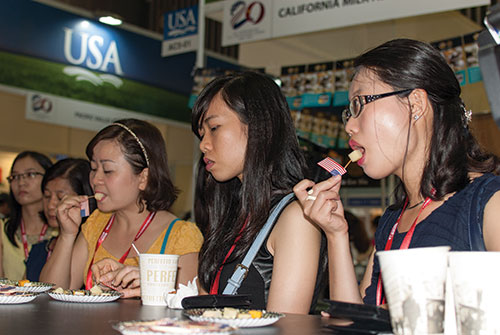 So far, 2021 has been an exceptional year for cheese trade, and that's not likely to change any time soon.
"I'm pretty optimistic for the remainder of the year," said Stephen Cain on the September 15 Hoard's Dairyman DairyLivestream. "I think we'll see continued solid exports throughout the year for a number of reasons."
The economic analyst for the U.S. Dairy Export Council (USDEC) first noted an obvious reason: the U.S. has a lot of cows and a lot of milk right now. That provides plenty of product for cheese manufacturing. We are also benefitting from greater processing capacity as more American plants have started operations and others have expanded. "That's really allowed us to ramp up cheese production," Cain said.
Not only does this capacity play a role in making U.S. cheese competitive on the world stage, but so does slowed growth in the European Union (EU), which as a whole exports even more cheese than the U.S. "In the EU, they've been struggling a little bit with milk production. Overall year-to-date, their production's only up about 0.3%," Cain shared. "That's limiting their amount of milk available to go into cheese production and also limiting the amount of product that's able to leave the country. That's able to keep those prices elevated coming out of the EU and helping us be a little more competitive on the world market."
Challenges to keep an eye on
Cain mentioned two difficulties in particular that will still play a role in trade over the coming months. The shipping backlogs that have plagued many industries around the world are evident in the dairy sector, too. This is mostly occurring in ports on the U.S. West Coast. Although a significant share of our exports head to Central and Latin America via the southern border or East Coast, a large portion of U.S. dairy is still shipped from the West.
"Overall, about 66% of our total dairy exports that leave the country on a vessel leave via the West Coast," Cain noted. He explained that most of the shipping problems are occurring at the ports in Los Angeles and Long Beach — where about one-quarter of U.S. cheese that is exported via ship leaves from.
"I don't think we're going to see this backlog cleaned up by the end of the year, specifically with increased purchases for Christmas," he predicted. "I don't think it'll be until sometime in late 2022 when we finally see the backlog have a chance to work its way through the infrastructure."
The pandemic is also still influencing trade. Vaccination rates have generally improved in many of our trading partner countries, but if infection rates climb again, new lockdowns would limit demand for product, Cain noted.
Still, he is overall optimistic for strong cheese demand and exports over the coming months. "I think we're in a good position globally with our product availability versus our other major competitors. I think we'll be price competitive and see a strong finish to the year here," the analyst said.
To watch the recording of the September 15 DairyLivestream, go to the link above. The program recording is also available as an audio-only podcast on Spotify, Google Podcasts, Apple Podcasts, and downloadable from the Hoard's Dairyman website.
An ongoing series of events
The next broadcast of DairyLivestream will be on Wednesday, October 20 at 11 a.m. CDT. Each episode is designed for panelists to answer over 30 minutes of audience questions. If you haven't joined a DairyLivestream broadcast yet, register here for free. Registering once registers you for all future events.
To comment, email your remarks to intel@hoards.com.
(c) Hoard's Dairyman Intel 2021
September 23, 2021