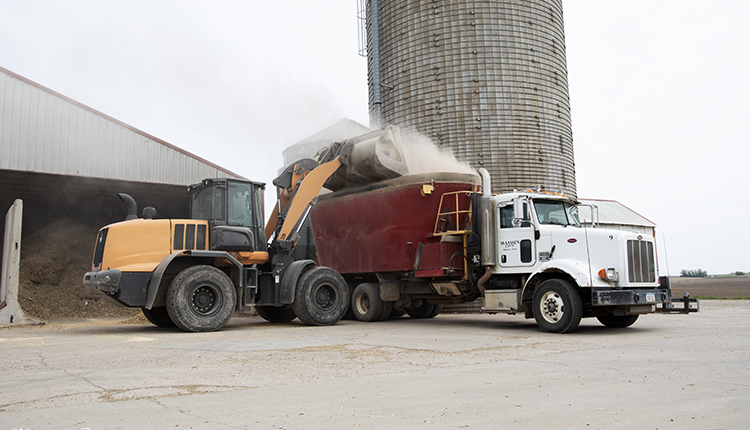 Preserving margins has become the goal of many feed programs in the last several months. Although that's always been an objective on farms, a heightened focus has fallen on feed ingredient inclusion as many farms turn the feed inventory leaf from 2021 to 2022 forages and contracted feed. During the December 14, 2022, Hoard's Dairyman DairyLivestream, DNMCmilk's Steve Martin detailed a few of his strategies for keeping margins strong.
"We can be thoughtful and creative while increasing our flexibility on feed cost inputs. We all have our favorite ingredients that we like to feed, but I think right now our biases toward the way we like to feed cows may get challenged in 2023," the experienced nutritionist explained. "It could be that things that you like to feed may not price out well this year, and you may have to try something new."
While that may be the case this year, Martin also reminded listeners that the old nutritionist adage is still true. Cows have a requirement for specific nutrients, not ingredients.

Look at prices
"Cottonseed and alfalfa hay are probably my two favorite examples of this saying, 'Cows don't need certain ingredients; they need the nutrients that those ingredients supply,'" Martin explained.
"Cottonseed had been around $500 a ton. People have just reduced the feeding level of it to the point that it's not even worth having a commodity bay at the dairy for it. So, now it's time to take the emotional leap for some people to take it out," he said of the economic-minded decision some dairy farmers must face.
In a similar way, alfalfa has been a staple in dairy cow rations for years, but growers that are strapped for water have found ways to build rations that work around the water-needy plant.
"There could be by-products and roughages in your local area that can supply the nutrients that alfalfa supplies," Martin explained. "No doubt, cottonseed and alfalfa are wonderful dairy ingredients, cows like them, and they work well, but those are my two examples of taking some biases out of the way we feed cows to improve our flexibility."

To watch the recording of the December 14 DairyLivestream, go to the link above. The program recording is also available as an audio-only podcast on Spotify, Google Podcasts, Apple Podcasts, and downloadable from the Hoard's Dairyman website.
The next broadcast of DairyLivestream will be on Wednesday, January 11, at 11 a.m. CT. You can sign up here now. Registering once will sign you up for all future events.
To comment, email your remarks to intel@hoards.com.
(c) Hoard's Dairyman Intel 2023
January 2, 2023