Washington was the only state in the country to increase dairy farm numbers in both 2011 and 2012, adding 10 herds each year. Jay Gordon (pictured above), executive director of the Washington State Dairy Federation and operator of a 140-cow organic dairy, has a good idea why.
"I see three or four factors why we've gained dairies," he explained. "First, we have some really good dairymen who have taken advantage of the natural attributes Washington has. About one-fourth of our dairies are in the "niche" [small herd size] category. The rest are in the 750+ range.
"A big reason why we increased dairy numbers the last two years is we didn't lose a lot of our smaller farms, and I give a huge amount of credit for that to Organic Valley and Horizon Organic. Between them we went from three organic dairies in 1999 to about 50 last year. I think all of us would have gone out of business in 2009 if we hadn't been organic.
"And about five years ago [Washington] went through a debate and revised its policy to allow raw milk sales. Now you have to get a raw milk producer and processor license, you are regulated and tested and inspected, and there are warning labels and everything. We wanted to make it as safe as possible for consumers and today we have 38 raw milk dairies.
"Washington State University has also been putting on cheese making classes for the past five years or so, and we have a growing number of dairies that are making their own cheese. That is helping smaller dairies especially stay in business."
---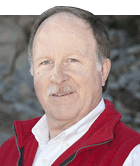 The author has served large Western dairy readers for the past 36 years and manages Hoard's WEST, a publication written specifically for Western herds. He is a graduate of Cal Poly-San Luis Obispo, majored in journalism and is known as a Western dairying specialist.