To be a top 10 team in the Intercollegiate Judging Contest at World Dairy Expo, you had to average a 45.8. To be a top individual, you needed to beat a 47 average. To best Virginia Tech, though, a team needed to top a 47.5 team average and an individual averaging 47.94.
The team from Blacksburg, Va., had three All-American individuals. Mandi Ramsburg, Elizabeth Davis and Mackenzie Moore placed first, second and fifth individually. Davis' mother, Anne, was one of the coaches of Maryland's winning 4-H team.
Rounding out the top five teams were University of Minnesota, Oregon State University, The Ohio State University and Cornell. To finish out the top five individuals, Doug Petzel and Erin Daninger were in third and fourth, sandwiched between the Tech powerhouse.
These names were called many times throughout the day as the youth listed above excelled in the various breeds and oral reasons.
Daninger averaged a 47.3 in reasons to top the oral reasons division and took three second-place honors in the various breeds. The duo of Davis and Ramsburg took second and third, while Petzel of Minnesota took fifth. A new face appeared in this group with Kaitlin Gelsinger, UW-Madison, claiming fourth. Only 10 points separated the top talkers in the group.
In placings only, Ramsburg again reigned, losing only 16 points across the classes.
For the top reasons teams, Virginia Tech and Minnesota again went one-two. Penn State and Cornell placed third and fourth. Oregon State seemingly came out of the woodwork this year and finished fifth in reasons, in addition to its third-place finish.
For the team and individual placings in the breeds, see our
Facebook page
.
Return to Hoard's at Expo
---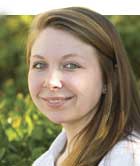 The author is an associate editor and an animal science graduate of Cornell University. Smith covers feeding, milk quality and heads up the World Dairy Expo Supplement. She grew up on a Medina, N.Y., dairy, and interned at a 1,700-cow western New York dairy, a large New York calf and heifer farm, and studied in New Zealand for one semester.