California's shortage of milk processing capacity got a shot in the arm yesterday with the announcement by Hilmar Cheese Company that it will build a new dry products manufacturing plant in Turlock, Calif.
The new facility has not yet broken ground, but is expected to begin receiving milk in late summer 2015. It will be the company's third milk processing plant and first powder exports-specific facility. Hilmar currently operates cheese plants in Hilmar, Calif., and Dalhart, Texas.
The new plant will focus on making products configured to meet the needs of existing and future buyers in China and other Asian markets. Its close proximity to the Port of Oakland permits fast shipping of its output, and the site is already pre-permitted for a milk plant.
The new facility will be built on a 23-acre site within the western city limits of Turlock, across the street from a California Dairies, Inc., processing facility and just five miles north of the Hilmar home offices and cheese plant. Daily milk processing capacity will be 2.5 million pounds per day in its initial phase, with adequate site capacity for a second phase of approximately the same volume.
The decision to build a new plant in California is a sharp contrast to the company's decision in 2005 to build a new cheese plant in Texas. Hilmar CEO John Jeter says that is because of both the products and the primary markets involved.
"A big issue in selecting this site was the availability of markets to the west," he explains. "When the decision was made to go to Texas, we needed to get closer to our customers on the East Coast. Sixty-five percent of the U.S. population is still east of the Mississippi River. The focus of this new plant is not on those customers, but on export markets to the west."
---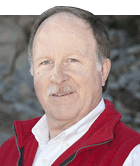 The author has served large Western dairy readers for the past 36 years and manages Hoard's WEST, a publication written specifically for Western herds. He is a graduate of Cal Poly-San Luis Obispo, majored in journalism and is known as a Western dairying specialist.