Shades, fans, misters and water make milk production possible even in the desert.
Few places in the U.S. are as deadly an environment for cows as Arizona, but milk producers there have become masters at using those four tools to not only help them survive, but thrive. It is a skill learned primarily from researchers at the University of Arizona, who did pioneering cow cooling research starting in the late 1970s.
Arizona's 110 licensed dairies in 2013 ranked the state just 35th (tied) nationally, according to USDA, but they tended to be very big. Average herd size was 1,727 cows, the second most behind New Mexico and a position it has held all 22 years that we have records for.
The result was Arizona had 190,000 total cows, ranking it 13th nationally and ahead of higher profile dairy states like Indiana, Colorado, Kansas and Vermont. It also ranked 13th in total milk production. Arizona dairy numbers have not changed in five years and cow numbers are nearly identical to the 2008 total.
Where the benefit of cooling becomes startlingly clear is milk production per cow. Arizona's 2013 average of 23,626 pounds was the 7th year in a row over 23,000 pounds. The U.S. average was 21,822 pounds.
For the last 18 years Arizona has ranked either first, second or third in average production per cow 15 times.
Big herds and high production mean Arizona dairies make a lot of milk – an average of nearly 112,000 pounds per day per farm in 2013 and 40.8 million for the year. That was second most behind New Mexico and it was 9.5 times the national average.
Along with high production comes high quality. According to Dairy Herd Improvement Association testing results summarized by USDA, Arizona's average somatic cell count in 2012 was just 184,000.
---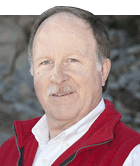 The author has served large Western dairy readers for the past 37 years and manages Hoard's WEST, a publication written specifically for Western herds. He is a graduate of Cal Poly-San Luis Obispo, majored in journalism and is known as a Western dairying specialist.