Nearly 300 attended the judging workout at the Hoard's Dairyman Farm on Sunday morning.
Hoard's Dairyman
magazine and farm staff prepared three classes of cows for the judges to evaluate. Teams representing 4-H, post-secondary (2-year technical colleges) and university teams and coaches took the opportunity to get in some last-minute practice before the national contest tomorrow at World Dairy Expo.
The judging workouts have proven valuable for many teams. The winning 4-H, post-secondary and college teams in 2013 all attended our practice last year. (Maryland 4-H, Kaskaskia College and Virginia Tech). Will that continue in 2014?
Want to check out the past judging contest winners? Visit www.hoards.com/hoardsatexpo and click on the
4-H,
post-secondary
and
collegiate
links. The
Hoard's Dairyman
team will be posting results from the award banquets as they are announced. Follow us on Facebook/hoardsdairyman to cheer on your favorite teams.
Other herds around the Madison area opened their barns as well to the judging teams from the U.S., Canada and South America. The host farms this year included Cozy Nook Farm (Brown Swiss), Mapleton Valley farm (Milking Shorthorn), Ocean-View Genetics (Holstein), Hoard's Dairyman (Guernsey and Jersey) and Sunshine Genetics (Brown Swiss).
Tours in Fort Atkinson also included the National Dairy Shrine Museum and Nasco. A lunch meal was sponsored by Hoard's Dairyman and Nasco.
Good luck to all teams competing!
Return to Hoard's at Expo homepage
---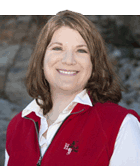 The author is the online media manager and is responsible for the website, webinars and social media. A graduate of Modesto Junior College and Fresno State, she was raised on a California dairy and frequently blogs on youth programs and consumer issues.