A pair of schools from the state of New York judged their way to the top of the 26th annual International Post-Secondary Dairy Judging Contest at World Dairy Expo. Morrisville State College Team A
(above)
finished ahead of second place SUNY Cobleskill, as team members Evan Castrogiovanni, Alton Rudgers, Logan Martin and Drew Hill won the competition by a decisive 65 points.
Following in third and fourth were two California schools. Modesto Junior College captured third place honors, while Merced Community College finished in fourth. Michigan State University Ag Tech rounded out the top five.
Morrisville State College Team A was led by Evan Castrogiovanni
(right)
, the contest's top individual. Teammates Alton Rudgers and Logan Martin finished fourth and fifth, respectively. Finishing in second place individually was Aaron Berg from the University of Wisconsin Farm and Industry Short Course. He was also the top individual in placings. Third place honors went to Andrew Vaz from Modesto Junior College.
Morrisville State College Team A had a good day in the reasons competition as well, talking their way into first place. Castrogiovanni, Rudgers and Martin finished first, second and third in individual reasons. The team was coached by Matthew Bruno and Doug Waterman.
A practical skills contest was also held Sunday evening, and the team from the University of Wisconsin-Platteville came in first
(team photo below)
. SUNY Cobleskill finished in second, and Alfred State College took third. Alison Quick from the University of Wisconsin-Platteville was the top linear individual.
Return to Hoard's at Expo homepage
---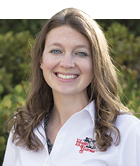 The author is an associate editor and covers animal health, dairy housing and equipment, and nutrient management. She grew up on a dairy farm near Plymouth, Wis., and previously served as a University of Wisconsin agricultural extension agent. She received a master's degree from North Carolina State University and a bachelor's from University of Wisconsin-Madison.