Death loss is a challenge to every producer. Minimizing early removals from the herd should be the goal, but it starts with an understanding of the root cause of the illness or injury.
Choosing to focus on the positive side of the issue, veterinarian and Colorado State University professor Frank Garry spoke on the topic of "Moving toward longer-lasting cows" during the November
Hoard's Dairyman
webinar.
The challenge to managing anything is being able to measure it. According to Garry's research, record keeping on the farm level is too basic and does not help producers, managers or veterinarians. He pointed to the broad category options available through herd management software to report herd removals. He suggested recording in-depth descriptions to help source the cause of the culling.
While a national database of culling and death numbers does not exist, the regional DHI statistics do provide trends, and culling and mortality rates are increasing. According to the National Animal Health Monitoring System, death rates have risen over the past 20 years from 3.8 percent to 5.7 percent. Summarizing his data, Garry estimates the numbers are closer to a 25 percent culling rate and 9 percent death loss in Western herds.
Garry also stressed employee "education" and not just "training." When employees understand why they are performing a certain task, it aids in their overall understanding of cow care and animal health. There is a shortage of "cow people" who instinctively can spot a cow not feeling well before she shows obvious signs of ill health, when it might be too late, he explained.
According to his research, the reported reason for culling or death loss is accurate only about 37 percent of the time. So, that leaves a lot of misdiagnosis. "Guessing is not good enough," Garry reiterated. Producers reported 24 percent of the death cases as "unknown" prior to a necropsy. However, only 4 percent were considered unknown after a necropsy. For this reason, he encourages necropsies to be performed, as it is a "grossly underutilized tool on dairies," Garry stated. While not needed on every animal, it is a good practice to ensure that health or metabolic problems are not at the source of a down cow that was reported as "euthanized." In reality, the reason her heath deteriorated to where she needed to be euthanized should be documented so changes can be made.
The most telling example Garry gave was a cow that was nonambulatory and had to be euthanized. She was necropsied, and it revealed she had a spinal fracture that caused her not to be able to move freely and go down. With an injury diagnosis in hand, the herd owner can now take a closer look at his dairy to see how this injury may have occurred and it it could be prevented in the future.
Do necropsies work? Gary answers that question with a resounding "Yes!"
Garry concluded the presentation with a challenge to dairy producers to combat mortality. "Commit to evaluating, monitoring, and decreasing the occurrences that can lead to early herd removals," he said.
This
November webinar
is archived and available for viewing. Past webinars can be found at www.hoards.com/webinars.
If you'd like to read more about our
Webinars, Animal Care or Dairy Management follow these links.
---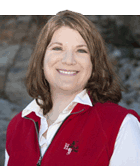 The author is the online media manager and is responsible for the website, webinars and social media. A graduate of Modesto Junior College and Fresno State, she was raised on a California dairy and frequently blogs on youth programs and consumer issues.