Genomics technology has taken the dairy breeding world by storm, giving milk producers tools to make dramatic improvement in their herds faster than ever possible.
Three early and aggressive adopters shared their results at the 12th Western Dairy Management Conference this week in Reno, Nev. Between them they may do more monthly genomic testing than any other three dairies in the U.S. They also had simple, basic tips for other producers who want to get started with the technology.
Dan Siemers from Newton. Wis., (right in above photo) operates a 2,500-cow dairy that averages 35,800 pounds of milk per cow. He said, "My first advice is to use the top bulls and have a top-end breeding program before you worry about genomics. If you're going to use genomics, make sure you use good bulls and have a comprehensive breeding program. My second piece of advice is identification. Making I.D. a priority with all of your people is extremely important."
Solid attention to animal identification is the advice of John Anderson (center above), who milks 14,000 cows at Double-A Dairy in Jerome, Idaho.
"We basic I.D. every animal whether they get registered or not. It's a pretty cheap way to get a parent average. You can start making decisions off of that, and as you want to increase reliability you can start genomic tests. With your breeding program it is certainly not necessary to have an ET and IVF program to have good genetic progress, whether you use good proven bulls or genomic sires."
A successful genomics program starts with management, stressed Jonathan Lamb (left above), who milks 6,500 cows in Oakfield, New York.
"You can have the best genetics in the world, but if you don't take care of them you aren't going to have much. Despite all of the great things you can do [with genomics], you're only as strong as your weakest link. Always work on finding that weakest link no matter where it is in your program, fix it, and then move on to the next one to make continual improvement."
---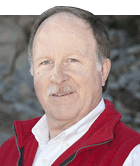 The author has served large Western dairy readers for the past 37 years and manages Hoard's WEST, a publication written specifically for Western herds. He is a graduate of Cal Poly-San Luis Obispo, majored in journalism and is known as a Western dairying specialist.