There are three U.S. dairy industry events that are so well known around the world that milk producers often refer to them simply by where they are held:

Madison – World Dairy Expo in Wisconsin
Tulare – World Ag Expo in California
Reno – the Western Dairy Management Conference in Nevada
Unlike the first two, Reno happens only every other year and is a purely educational event; the largest one in the world. Children are nowhere to be seen, nor is there a trade show. The atmosphere is thoroughly informal and social, yet the conference is all business.
The event has become a magnet for progressive dairy owners and the companies that serve them. Dairy owners and managers come from around the world to network and hear about new technologies and methods to become even better at what they do. It is also an elite podium for speakers who are invited.
The 12th Western Dairy Management Conference (WDMC) was held last week and was a reminder that, despite the constant decline in dairy farm numbers and the increasing sophistication of those that remain, the industry still has a huge appetite for information.
Total registration count of 1,735 came close to setting a new record. But considering that U.S. dairy numbers have dropped by nearly two-thirds since the first conference in 1993, it felt very much like a new one. Attendees came from 41 states and 15 countries and had herds of up to 25,000 cows.
The program featured 24 different presentations that spanned a universe of dairy farm and business management and included four panel discussions. Live talks are often different than speakers' papers in proceeding books, nearly all of which can be found at http://www.wdmc.org/2015QR/paper.html. No video recordings are available.
Dates for the 2017 conference have already been announced: February 28 to March 2.
---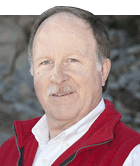 The author has served large Western dairy readers for the past 37 years and manages Hoard's WEST, a publication written specifically for Western herds. He is a graduate of Cal Poly-San Luis Obispo, majored in journalism and is known as a Western dairying specialist.