Bad turned to worse for California's drought situation in 2014, which is why, on the first day of spring this year, California's 2015 water situation already looked terrible.
Signs of a fourth straight year of drought - which broke historic records a year ago - were unmistakable in the San Joaquin Valley and Sierra Nevada mountains last week.
Winter precipitation was once again far short of normal. Snowpacks are once again abysmal. Reservoir levels are still too low. Some farmers are making more money by selling the water they are entitled to than they could if they used it to grow crops.
The State Water Project has announced a 15 percent allocation for users this year, but it gets worse: for the second year in a row farmers served by the Central Valley Project have been told they will receive
zero
federal irrigation water from the Bureau of Reclamation.
Attorney Dan Dooley, a former chairman of the California Water Commission and a water rights law specialist, said the roughly 500,000 acres that were not planted in the state last year due to lack of available water (most of them in the San Joaquin Valley) seems certain to increase in 2015.
Speaking at the annual convention of Western United Dairymen in Yosemite March 19, he said he believes the drought crisis has transformed everyone's perspective about water.
"I think we're at the front end of an era where water as an asset is going to go off the charts in terms of value," he explained. "The opening prices I heard on the spot market for water for almonds this year was $1,780 per acre foot. And my guess is you're going to see prices for one-time, farmer-to-farmer deals in the $2,500 range, mostly to keep almonds and pistachios alive."
Dramatically higher market values for water have huge implications for California milk producers.
"As you think about a 15 to 20 percent contraction in the number of farmed acres in the valley over the next 20 or 25 years, and as you look around at all of the permanent plantings that have been done, you have to ask yourself: which crops are going to be most susceptible to not being grown as prevalently as they have been in the past?" he said. "I would suggest that the market potential of forage crops for the dairy industry isn't going to be at the top of the list to use valuable water supplies for.
"Does that mean the dairy industry leaves or no longer exists? Of course not. It doesn't mean there are no forage crops grown in the valley either. But it could mean there are fewer acres of those crops being grown, upward pressure on market prices, and a lot more feed stocks being imported from other parts of the state or the West."
---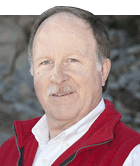 The author has served large Western dairy readers for the past 37 years and manages Hoard's WEST, a publication written specifically for Western herds. He is a graduate of Cal Poly-San Luis Obispo, majored in journalism and is known as a Western dairying specialist.