Kansas State University does a fantastic job of providing applicable classwork to prepare students for future schooling and careers. It is one of the reasons I chose to attend the university. However, there was one part of the "applicable coursework" I had not been looking forward to, taking a research course. My adviser suggested I take a research development class to fill the requirement for graduation, and from it, I have gotten more than I bargained for.
As part of the course, I had the opportunity to conduct my own undergraduate research project. I decided to evaluate millennial purchasing preferences of dairy and alternative milks since it was a comfortable topic for me. Specifically, I looked at how my peers defined milk and how they made selections at the dairy case related to their definitions and preferences.
Fluid dairy milk consumption has declined in America since the 1940s. USDA researchers have shown that much of this reduction has been related to Americans eating more meals outside the home, demographic changes in the American population, allergy and health concerns, animal welfare worries and the availability of other options. They predict the trend will continue as each succeeding generation forms an opinion about milk based on its members' backgrounds and experiences.
I used the trends identified by the USDA research as a foundation for the research I conducted. I formed focus groups made up of college-aged students to understand why they select the fluid dairy and alternative beverage products that they choose and how they define milk. This allowed me to investigate the "why" behind millennials' selections. Most of the participants in my study preferred cooking with dairy milks, but about half of them preferred drinking alternatives. I found millennials have a very specific conceptual image of milk. They associated it with cows and calcium. For the most part, students defined dairy milk as a different product than alternatives. However, some millennials did not see a difference between dairy and plant-based products in functionality.
I didn't unearth any shattering conclusions from my research, but it did open my eyes to a lot of alternative opinions and backgrounds that influence consumers today. As marketers of milk and the industry, we have to be ever mindful of these differences as we continue to provide and promote a nutritious and high-quality product for Americans.
---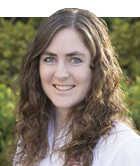 The author was the 26th Hoard's Dairyman editorial intern. She is a senior at Kansas State University in Manhattan, Kan. At KSU, Maggie is double majoring in agricultural communications and journalism and animal sciences and industry. Seiler grew up on a 130-cow registered Holstein dairy in Valley Center, Kan., near Wichita.