The milk pricing circus starts in California next week.
On Tuesday, Wednesday and Thursday, USDA will hold public outreach meetings in three different locations across the state to review multiple proposals that have been submitted regarding the establishment of a Federal Milk Marketing Order (FMMO) in the nation's largest dairy state, to explain the FMMO rulemaking process, and to allow proposal sponsors to explain their ideas.
Each meeting will begin at 9 a.m. The locations are: the California State University, Chico Student Union, May 5; the Picadilly Inn Airport hotel in Fresno May 6; and the L.A. County Farm Bureau building in Palmdale, May 7. Advance registration is requested and can be done at: http://www.ams.usda.gov/AMSv1.0/CAOutreach
The hearings are the first step in what will likely be a long and contentious process that was initiated February 4 when the state's three largest dairy cooperatives submitted a formal request to USDA to establish a statewide FMMO.
That proposal is tangible evidence of long-simmering producer frustration with the California Department of Food and Agriculture's inability or unwillingness, especially in recent years, to increase the whey component value used in the state's 46-year-old pricing formula, and thus narrow the often huge gap that has existed between FMMO Class III and California Class 4b prices.
That it would set off a producer versus processor fight was easy to predict.
Battle lines have been drawn in the form of three alternative FMMO proposals submitted to USDA by the Dairy Institute of California, whose 28 members operate 38 processing plants across the state; the California Producer Handlers Association (CPHA), which consists of four producer-handler dairy farm families; and Ponderosa Dairy, a farm located just inside Nevada that was established in 1994 to supply fluid milk to California.
PDF file copies of all four proposals submitted are available on the USDA Agricultural Marketing Service website at:
http://www.ams.usda.gov/AMSv1.0/caorder
Ponderosa's cover letter to USDA said there is no basis for an FMMO and "the cooperatives have not presented sufficient evidence of a need to promulgate a federal milk marketing order." It also urges USDA to "seriously consider whether there is sufficient indication that the kind of disorderly marketing that lies at the heart of federal orders is present to justify a federal order in California."
CPHA's letter urges "preservation of the exempt quotas that have become the backdrop against which the last remaining Producer-Handlers have invested and structured their businesses for the past 48 years."
The Institute's 13-page letter is much more aggressive. It points out that its members voted unanimously to submit a complete alternate proposal modeled upon existing FMMOs and primarily Upper Midwest Order 30 due to its similar Class 1 utilization and significant cheese production. The letter includes these statements:
"The Dairy Institute concludes that there are no significant disorderly marketing conditions that warrant either a hearing or, after any hearing, promulgation of a California Federal Milk Marketing Order."
"As the cooperatives' proposal makes clear, their primary concern is with perceived disparities in manufactured product prices [resulting from the California classified pricing system] as compared to federal order pricing.
"The Dairy Institute strongly disagrees with the factual assertions of the cooperatives regarding perceived problems with, or shortcomings of, the California system."
Pull up a chair everyone. The curtain is going up on what figures to be a long and entertaining show.
---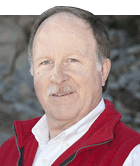 The author has served large Western dairy readers for the past 38 years and manages Hoard's WEST, a publication written specifically for Western herds. He is a graduate of Cal Poly-San Luis Obispo, majored in journalism and is known as a Western dairying specialist.