As California's drought woes worsen and tempers keep climbing, you just knew it would come to this: a courtroom war for water. And it's already become a soap opera.
Five California irrigation districts in Stanislaus County in central California filed suit June 19 against the State Water Resources Control Board for issuing "curtailment notices" to senior rights holders whose claims on water pre-date the beginning of California's permitting process in 1914.
The notices threatened fines of $1,000 per day and $2,500 per acre-foot if rights holders didn't comply immediately.
Stanislaus County was California's fourth largest dairy state in 2014, with 207 dairies and 179,884 cows that made over 4.2 billion pounds of milk.
"This is our water," said Steve Knell, Oakdale Irrigation District general manager, one of the plaintiffs. "We believe firmly in that fact and we are willing to take on the state bureaucracy to protect that right."
In the suit, the groups assert that the right given to them to divert water from specified local rivers and tributaries is a property right and ordering them to stop doing so is a violation of property rights. It also claims the state water board does not have jurisdiction over pre-1914 water rights, that the curtailment notices were "arbitrary and capricious" and are contrary to law, and were issued without hearing, notice or other provisions of due process.
"The State Water Resources Control Board has a difficult challenge to manage a critically deficient water supply, but that challenge does not trump constitutional protections of due process and property rights," said Jeff Shields, general manager of the South San Joaquin Irrigation District.
Five days after the irrigation districts filed suit, officials from the State Attorneys General Office backtracked on the curtailment notices - all the way back - saying they were "courtesy notices" and "advisory" only. At a hearing for the first case in Stanislaus County, they did ask that the case be moved outside the San Joaquin Valley.
"We're living life in a blender at this point," said Knell. "The state water board has generated a lot of confusion by its actions. In its court papers it is apparent it has changed course. It's mass confusion."
---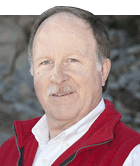 The author has served large Western dairy readers for the past 38 years and manages Hoard's WEST, a publication written specifically for Western herds. He is a graduate of Cal Poly-San Luis Obispo, majored in journalism and is known as a Western dairying specialist.