It wasn't as much as dairy producers asked for, and the duration is only half as long, but California dairy producers will begin receiving a temporary 12-month increase in the dry whey portion of their Class 4b (cheese) pricing formula on August 1.
California Department of Food and Agriculture (CDFA) Secretary Karen Ross announced the increase July 17. It follows a June 3 public hearing that she called to consider temporary adjustments to the state's milk pricing formula to close the gap between California Class 4b prices and comparable Class III prices in Federal Milk Marketing Orders.
How much the increase will amount to for producers will vary each month along with the price of dry whey on the open market. But at current price levels, it is approximately 25 cents per hundredweight, according to Milk Producers Council (MPC) in Ontario.
The temporary increase is reasonably close to what producer groups asked for at the hearing, but the duration is only half as long. State processor groups had proposed an increase that amounted to less than 3 cents and a duration of just six months.
If dry whey prices were to somehow remain at their current level for the entire 12-month temporary increase period, it would translate into an additional $71,000 of income per California dairy. Dry whey prices are currently the lowest they have been since 2009.
State producer groups were pleased by the secretary's decision.
"Today's announcement represents good news for California's dairy families, providing them with a much-needed immediate adjustment that will result in more market-based revenue and put us in a better position to compete with our fellow out-of-state dairymen," said MPC General Manager Rob Vandenheuvel.
We are appreciative of the intensive effort by CDFA to listen and respond to the industry and act accordingly," said Western United Dairymen President Frank Mendonsa. "While we had hoped for more, we will continue to work closely with the department to be more consistent with the federal order."
"We welcome the short-term increase, but the only way to restore equity in the long term is by joining the federal order system to bring our prices and process for determining prices in line with the rest of the country," said CDC Executive Director Lynne McBride.
Happiness over the temporary increase is tempered by the much wider spreads between California Class 4b and FMMO Class III prices that existed the last five years and over $1.8 billion in total income that state milk producers did not receive as a result, according to MPC.
---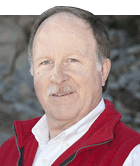 The author has served large Western dairy readers for the past 38 years and manages Hoard's WEST, a publication written specifically for Western herds. He is a graduate of Cal Poly-San Luis Obispo, majored in journalism and is known as a Western dairying specialist.