New Year's morning 2016 will be one that two young Californians will remember forever, because the dairy message videos they made won them the best seats possible for the Rose Parade in Pasadena – on one of the floats.
For the first time in its history, the California Milk Advisory Board (CMAB) will have a float in the world's most-seen parade in 2016. On it will be seats for the two winners of a video contest that is open to California juniors age 13 or older who are members of either Future Farmers of America, California Holstein Association, or California Jersey Cattle Association.
The "Keep It Real With California Dairy" video contest celebrates the real food and farmers that are behind the state's $21 billion dairy industry. Entries should be up to 30 seconds long and focus on one of three topics:
Dare to Dairy Challenge
, capturing fun, friendly competition such as an ice cream eat-off.
Keep it Real
, telling a behind the scenes story about the real life of dairy farming.
Udderly Cool Eats
, showing cooking skills or favorite usage tips featuring Real California dairy foods and ingredients.
"This contest is created specifically for future dairy leaders who have dedicated their young lives to connecting consumers with where their food comes from," said John Talbot, CEO of the CMAB. "We are excited to give them a platform for sharing their point of view with a broader audience."
Two grand prize winners will ride on the CMAB's 2016 Tournament of Roses Parade float and participate in related activities. One runner-up winner will receive a trip to Pasadena to take part in select Tournament of Roses activities, but will not ride on the float.
Entries must be uploaded to the California Dairy Pressroom (www.californiadairypressroom.com) by September 30, 2015. Winners will be chosen by a CMAB committee based upon their originality, creativity and relevancy to the theme. If a winner is under age 18, travel expenses will be included for one adult chaperon.
---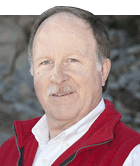 The author has served large Western dairy readers for the past 38 years and manages Hoard's WEST, a publication written specifically for Western herds. He is a graduate of Cal Poly-San Luis Obispo, majored in journalism and is known as a Western dairying specialist.