Across the U.S., cornfields are clearing out and silage bunkers are filling fast. And as they do, USDA has slightly changed its mind about just how full it thinks they will be.
In September's "World Agricultural Supply and Demand Estimates" the department shaved its forecast about national average corn yield per acre by 1.3 bushels from the August estimate of 168.8 bushels. Its initial forecast back in May was 166.8 bushels.
In the context of what is still likely be the third biggest corn crop in history, the change doesn't amount to a whole lot – 101 million bushels. That nudges total expected crop size down to 13.6 billion bushels.
USDA also made much smaller revisions to beginning corn stocks (40 million bushels less), domestic usage (20 million bushels less), feed and residual use for 2015-16 (25 million bushels less), and feed-seed-industrial use (5 million bushels more).
U.S. ending stocks for 2015-16 are now projected to be 121 million bushels less, and season average price received by farmers is projected to be 10 cents per bushel more at $3.45 to $4.05.
The department also said it expects the U.S. won't be alone having a slightly smaller corn crop. Globally, it forecasts a 268 million bushel reduction in total production. More than half of the decline (154 million bushels) is expected to occur in the European Union (EU).
Projected total global corn consumption has been reduced by 82 million bushels, primarily due to anticipated increases in barley and wheat consumption in the EU.
---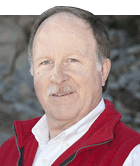 The author has served large Western dairy readers for the past 38 years and manages Hoard's WEST, a publication written specifically for Western herds. He is a graduate of Cal Poly-San Luis Obispo, majored in journalism and is known as a Western dairying specialist.